Pool Enclosures
Enjoy your pool all year
|
Competitive pricing
Our solid log pool enclosures are ideal for new and existing pools up to 25 x 12.5 m, and give you every opportunity to enjoy the Norwegian Log Effect™ throughout the year.
What's more, our pool houses are very competitively priced compared with conventional brick or sectional glass structures. Our swimming pool buildings start from only £88,000, with complete pool/building packages from just £193,000.
We have co-operated closely with many public bodies, schools, charities, etc., as well as private clients, on designing pools to meet specific requirements. Take advantage of our experience and let us help design a facility that will meet your budget and needs.
Quick, clean installation
We install our wooden swimming pool buildings much faster than conventional brick or glass structures can be built. And with minimal disturbance to your site. Our log technology can also enable us to install pool houses on sensitive sites or sites with difficult access, because we make minimal use of heavy machinery.
Low running costs
Our pool enclosures enable you to enjoy your pool whenever you wish, whether you are installing a new pool or enclosing an existing one.
Log's high level of natural insulation and our draught-free construction technology mean the thermal efficiency of our pool houses is much better than that of sectional glass. It compares very favourably with many other construction methods, and helps minimise energy costs and condensation.
Furthermore, our pool enclosures have an indefinite lifespan with only minimal maintenance. This keeps your running costs low and preserves the value of your investment.
Swimmer-friendly environment The friendly, tactile log surfaces in our pool buildings provide a warm, welcoming and echo-free environment that makes swimming the pleasure it should be. Our pool enclosures are also ideal for hydrotherapy at home as well as in special schools, hospices, etc.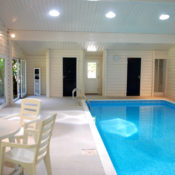 "We use it every day now because it's a pleasure to go into. It just looks beautiful and, as the floor is non-slip, I don't have to worry about the children when they have pool parties."
Caroline Edwards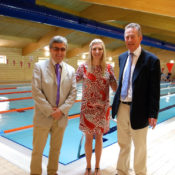 "The log building and pool definitely have the 'wow factor' and will benefit the school and pupils for many years to come."
Tom Holman
Get in touch regarding Pool Enclosures
Customise your Garden Building
* Nationwide Coverage. Free Delivery & Installation within 50 miles or 1 hour driving time radius of Reading, Berkshire (excluding congestion charges). Installation cost assumes good access. Existing WiFi network is required for App control of the heaters. Mains electrical connection is excluded. The prices are a guide only, are inclusive of V.A.T. and will be confirmed by a written quotation including a drawing of your requirements and a detailed specification in accordance with our Standard Terms and Conditions of Contract.