Commercial Pool Enclosures
Solid log – a swimming pool's natural home
Our solid log pool enclosures are ideal for new and existing pools up to 25 x 12.5 m. And not just swimming pools – they're perfect for hydrotherapy units too at special schools, hospices, etc., so everyone can enjoy the Norwegian Log Effect™.
Log's high level of natural insulation means the thermal efficiency of our pool enclosures is much better than that of sectional glass. It compares very favourably with many other types of structure, and helps achieve attractive running costs.
Our log technology means your pool enclosure is immensely strong and draught-free. The friendly, tactile log surface provides a welcoming environment, with a warm atmosphere and friendly echo-free acoustics that are particularly helpful for learners.
All our pool enclosures have an indefinite lifespan with only minimal maintenance. This keeps your running costs low and preserves the value of your investment.
Designed as Timeless Traditional, our pool enclosures feature interlocking logs in the classic Norwegian style. We can usually install your log pool enclosure within just weeks of receiving your order, and with minimal time on site.
Competitive pricing
Our prices start at only £800/m2 to enclose a 25-m pool. We've developed three pool packages to provide examples of budgets and layouts for the pool, the building and its facilities, such as changing rooms and showers.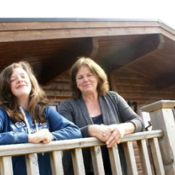 'It all went seamlessly. We were reassured by Norwegian Log's experience.'
David and Angela Snow
Get in touch regarding Commercial Pool Enclosures
Thank you for your interest, we will get back to you as soon as we can.