Pool Enclosures
Pool enclosures starting at £900/m²
Indoor pool package from £193,000
Swimmer-friendly environment
Low running costs
Competitive pricing
Our solid log pool enclosures are ideal for new and existing pools up to 25 x 12.5 m, and give you every opportunity to enjoy the Norwegian Log Effect™ throughout the year.
What's more, our pool houses are very competitively priced compared with conventional brick or sectional glass structures. Our swimming pool buildings start from only £88,000, with complete pool/building packages from just £193,000.
We have co-operated closely with many public bodies, schools, charities, etc., as well as private clients, on designing pools to meet specific requirements. Take advantage of our experience and let us help design a facility that will meet your budget and needs.
Quick, clean installation
We install our wooden swimming pool buildings much faster than conventional brick or glass structures can be built. And with minimal disturbance to your site. Our log technology can also enable us to install pool houses on sensitive sites or sites with difficult access, because we make minimal use of heavy machinery.
Low running costs
Our pool enclosures enable you to enjoy your pool whenever you wish, whether you are installing a new pool or enclosing an existing one.
Log's high level of natural insulation and our draught-free construction technology mean the thermal efficiency of our pool houses is much better than that of sectional glass. It compares very favourably with many other construction methods, and helps minimise energy costs and condensation.
Furthermore, our pool enclosures have an indefinite lifespan with only minimal maintenance. This keeps your running costs low and preserves the value of your investment.
Swimmer-friendly environment The friendly, tactile log surfaces in our pool buildings provide a warm, welcoming and echo-free environment that makes swimming the pleasure it should be. Our pool enclosures are also ideal for hydrotherapy at home as well as in special schools, hospices, etc.
Most frequently asked questions
Does a pool enclosure require planning permission?
Not if it conforms with Permitted Development, with a pitched roof not more than 4 m high, a gutter line not more than 2.5 m and a ground area not more than 50% of the residential area of the house.
Do you provide indoor pool packages with layouts and prices?
Yes. Please contact us for our brochure and price list.
I require a large pool with a spa, sauna, gym and snooker room. Is there any limitation on size?
We manufacture each building individually to your specific requirements, and there are no limitations on size within reason.
Can I cover my existing outdoor swimming pool with a Norwegian Log pool enclosure?
Yes, you can in most cases.
I already have my own pool builder. Can you supply the enclosure only?
We'll be happy to work with your own contractors for groundworks and installing the pool, services, heating and ventilation. We'll prepare all the working drawings, and on completion of the groundworks we'll erect your building onto the prepared foundations.
Testimonials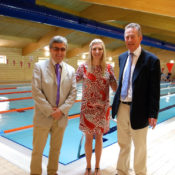 "The log building and pool definitely have the 'wow factor' and will benefit the school and pupils for many years to come."
Tom Holman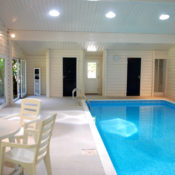 "We use it every day now because it's a pleasure to go into. It just looks beautiful and, as the floor is non-slip, I don't have to worry about the children when they have pool parties."
Caroline Edwards
Find out more
To start discussing your swimming pool building, please contact us to make an appointment with one of our experts.
Book Appointment