Create your own Craft Studio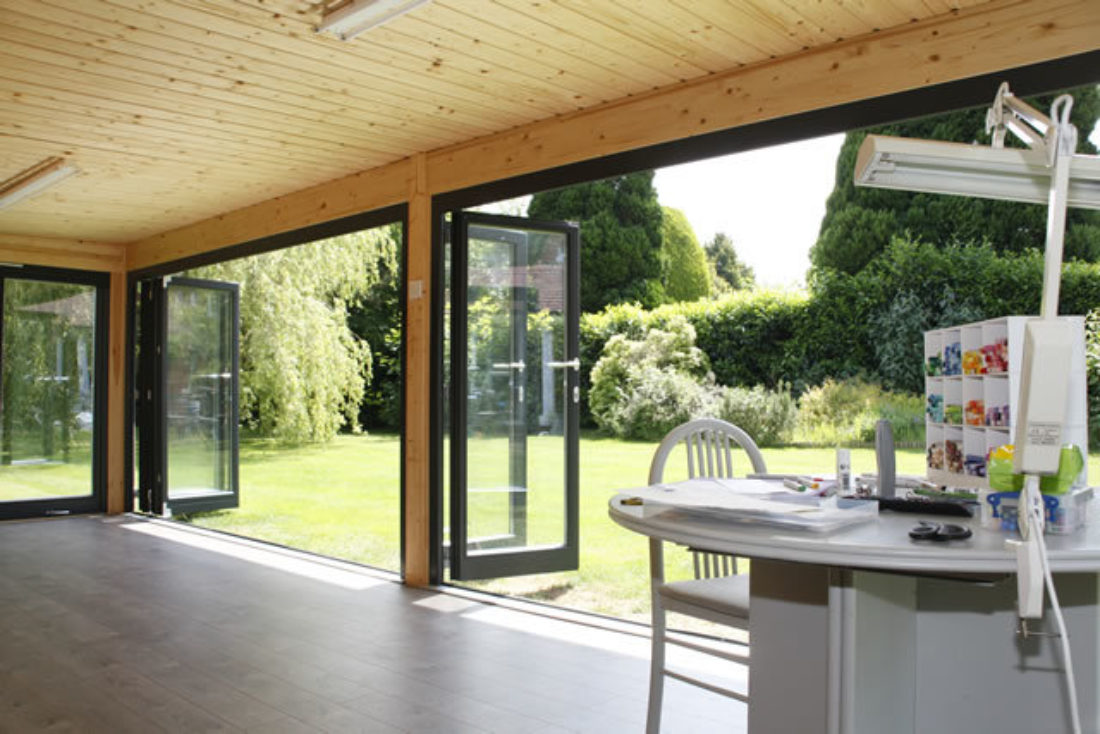 A bright and light garden craft room can provide space and inspiration for a myriad of creative projects. Here's some crafty design tips to consider …
Build zones into your layout
Get creative before you even start your projects by segregating areas of your log cabin for different tasks. This will help you stay organised and reduce clutter in those areas where you want to create. Consider having dedicated areas for storage, cleaning up and crafting. For example, why not add plumbing for a kitchenette and sink, and laminate flooring for easy cleaning. If more than one member of your family is going to be crafting at the same time, consider side boards with dedicated space for each person. A mood board is a fun way to share ideas – and your floor-to-ceiling views are sure to trigger off grand designs!
Contain your crafting
With good crafting, comes a good deal of ingredients – and if you want to have space to shape, mould and forge, you'll also need room for your tools. Draws with compartments allow you to stash small items such as sewing thread, scissors, glues and buttons in one place, while storage trolleys on wheels mean you can take your kit to wherever you're working. A pegboard with hooks and pins maximises vertical space, while separate baskets for 'works in progress' mean you can pick up projects quickly after a break. Think about ladder shelves for storage jars or hanging racks for fabric, paper and ribbon.
Have a light bulb moment
Good natural light is crucial for creating. Think about including a combination of daylight magnifying lamps, light boxes and floor lamps to illuminate close work. Ceiling level track lights can light up large areas, with light switches recessed into work tops for easy access. During the day, our log cabins are flooded with natural light, but we also offer integrated glass blinds for privacy and glare reduction on sunny days.
Furnish your creativity
Measure the dimensions of your space so you can get the right sized furniture to fit. Before buying your table consider whether you prefer to sit or stand to work, and whether a wheeled chair or static stool will be best. Corner desks or drop-leaf tables are great space savers if you want to add an easel or other large objects to your cabin, but a centralised workspace will allow the whole family to muck in. Add cabinets underneath your table to maximise storage, or add casters so you can move it around.
Top Five Crafts to do at Home
Read here how Norwegian Log customer Francoise Read expanded her craft business with a contemporary log cabin studio.