How a garden room office can help your productivity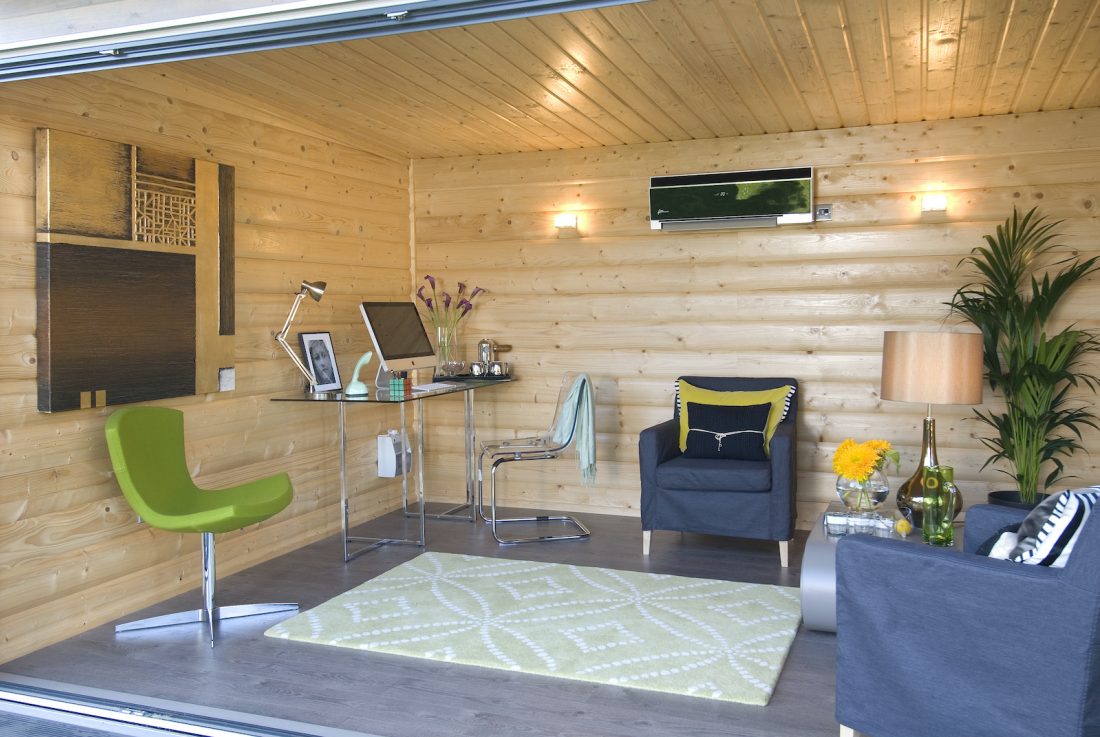 Over lockdown, many of us have had to get used to a new way of working, with the great majority of employers adhering the new Working From Home regulations.
While working from home comes with a few advantages – think about the time saved not having to commute to and from work every day – there are also some downsides to sharing your workspace with other family members.
In particular, this issue affects those who are not lucky enough to have a spear room or garage to create a dedicated work area and find themselves having to hide away in their bedroom to find some peace and quiet.
As the problem started affecting more and more workers across the UK, many turned to a garden office as a practical solution.
What is a garden room office?
A garden office provides a far greater working experience than a converted shed office as it gives you a versatile, elegant workspace comfortable all year round. Our insulated garden offices enable you to work in comfort throughout the seasons, with minimal energy costs.
Available in a variety of styles, our Norwegian Log garden offices can be easily installed on an under-used area of your garden, thanks to our patented joint system. This advanced technology means that we're no longer restricted to walls that meet at right angles and it gives us more flexibility in design. We will take care of all aspects of planning, giving you advice on the best solution tailored to your garden, so your office can be built as a corner office, hexagonal building or fitted into a tight space.
What customisation is available for garden offices?
At Norwegian Log, we offer a comprehensive range of garden office customisations that cover every detail, from the electrical installation to a wide choice of joinery.
Some of the options we offer are:
Air-source heat pump for heating and air conditioning to provide the perfect climate
A wide choice of colours for the external & internal walls and joinery
Integrated glass blinds for privacy and glare reduction on sunny days
Composite decking and internal walls for extra storage or facilities
Our team of experts will support you, overlooking the project from start to finish. We will plan, design and install your garden office, with all lighting, power, heating and flooring included in the package.
What are the benefits of a garden office?
As briefly mentioned, a garden office can give you great peace of mind when working from home and the perks that come with it are many and varied.
Save time: The first, most obvious advantage of having an office installed in your garden is the time you'll be able to save not having to commute to and from work on a daily basis. This will allow you to efficiently manage your time and optimise your workdays.
Find work life balance: Working from home often feels like you're always at work. Gone are the days when you could just switch off once you stepped through the door as the lines have now been blurred. Having a dedicated workspace will give you some structure back, removing the metal strain that came with feeling like you were always at work.
Stay professional: Have you ever had to mute yourself during a work call because you didn't want your colleagues – or even worse a client – to hear your dog snoring in the background or your child playing with the loudest toy ever? Working from a well-insulated, soundproof office can give you the peace of mind you need to conduct a quiet, professional work call without having to mute yourself after each sentence.
These are only a few of the main perks that come with having a garden office, you can read about some of our previous clients thoughts on the advantages of having a garden office here!