Work undisturbed without taking up valuable space in the home in your very own log garden office. Avoid long commutes to the office and beat rising office rental costs whilst increasing the value of your property - with a purpose built, versatile garden office building.
From the inside, our log cabin offices are peaceful, functional and productive, with a well-insulated, light and airy workspace. From the outside, the solid log construction and eye-catching glass frontages provide a visually and aesthetically pleasing presence in your garden. As your outdoor office blends into the surroundings, the wooden workspace gives a tranquil backdrop to the garden rather than a constant reminder of work, giving you the ideal work/life balance.
Garden Office Features
A purpose-built garden office provides a far greater working experience than a converted shed office or summerhouse. With a choice of double glazed central French doors, versatile bi-fold doors or a full glass front, your garden office will feel bright and natural.
Our versatile construction system makes it easy to create the working environment you need, complete with lighting, power, heating, and flooring. Extended wi-fi and telecoms and even plumbing for a WC and shower, kitchenette, or sink are all options. The durability and specification of our log garden offices mean it's easy to change your purpose to a hobby room or entertaining space, should you ever decide to stop working from home.
Creating a workspace that is comfortable in all seasons can be a challenge, our insulated garden offices enable you to work in comfort all year round - with minimal energy costs. Our garden office buildings have fully insulated floors and roofs to complement log's high level of natural insulation. Warm in winter and cool in summer, our home offices enable you to work in comfort with low running costs.
We offer a comprehensive range of garden office building customisation options covering the electrical installation and joinery, such as:
Air-source heat pump for heating and air conditioning to provide the perfect climate
A wide choice of colours for the external & internal walls and joinery
Integrated glass blinds for privacy and glare reduction on sunny days
Composite decking and internal walls for extra storage or facilities

We can fit your bespoke home office into an under-used corner or some other nook in your garden, thanks to our patented joint system which means we're no longer restricted to walls that meet at right angles.
This major advancement in log building technology gives us much more flexibility in design so your office can be built as a corner office, hexagonal building, or fitted into a tight space.
Garden Office Range and Sizes
Our log home offices range from 9-30m2 (97-323 sq. ft.) and are available in a huge range of standard sizes and layouts. They're perfect for virtually any application, from a quiet study to an inspiring garden studio or craft workshop.
Whether you're working remotely for a large organisation, running your own business, or just need somewhere to keep on top of paperwork, you can work in our tranquil garden offices with a sense of pride and confidence.
Our smallest garden room measures 3m x 3m with a 2.5m high ceiling; ideal if you're looking for a cozy study or simple home office, with space for a desk, bookcase, filing cabinet, and chair, along with space-enhancing touches like plants and lamps.
And for a small team of two or three, the 4m x 4m Garden Office can accommodate three corner desks or two desks and an area for coffee.
If your plot is rectangular, we can install garden offices in all lengths and widths from 3m x 4m to 4m x 7.5m. With these rectangular offices, you can find room to work and play or host clients in a reassuring, solid home office that reflects your solid business credentials.
We can install partition walls in your garden office to suit the different sides of your business, such as providing a photo studio space and a processing area, a consulting area or meeting space, or a shower room and WC for true self-sufficiency.
With a choice of roof heights from a permitted development compliant 2.5m to a loftier 2.6m option or a bespoke pitched roof with a gable glazed front, you can specify the perfect garden office for your current and future needs.
Take a Look Inside our Garden Offices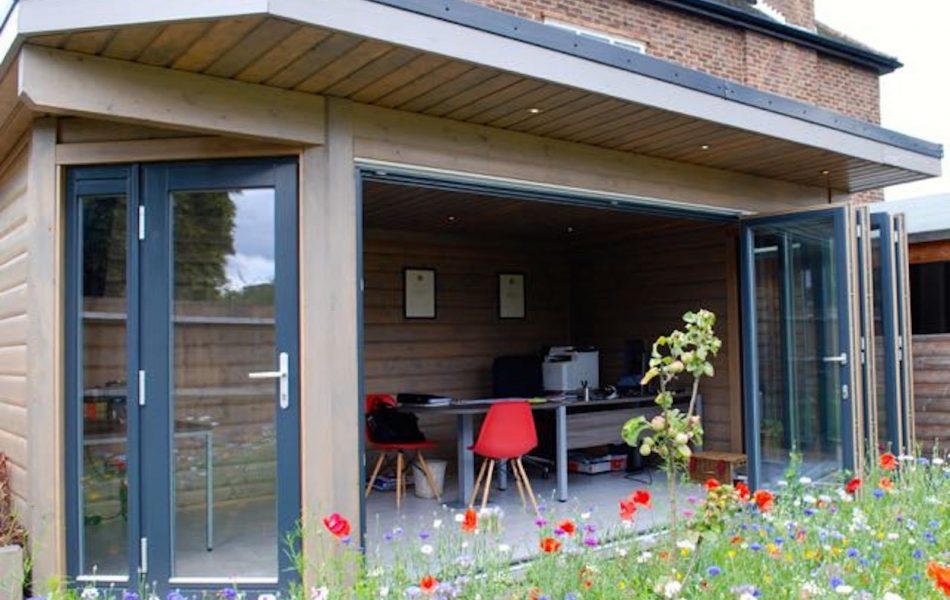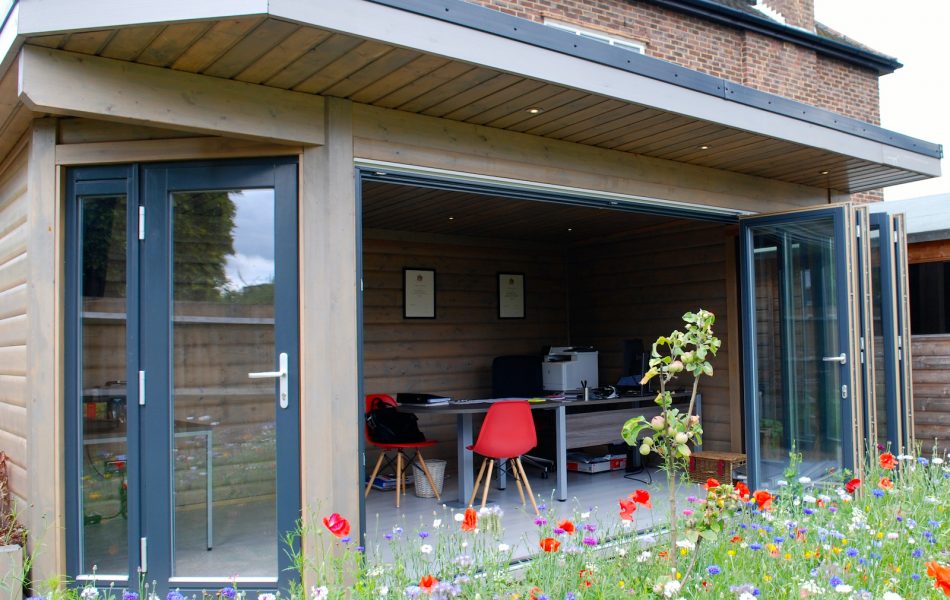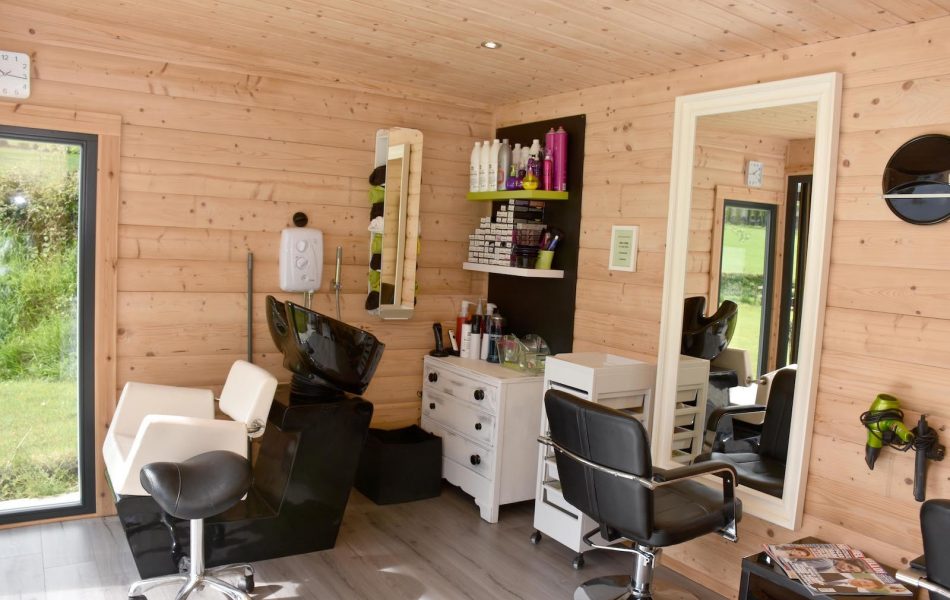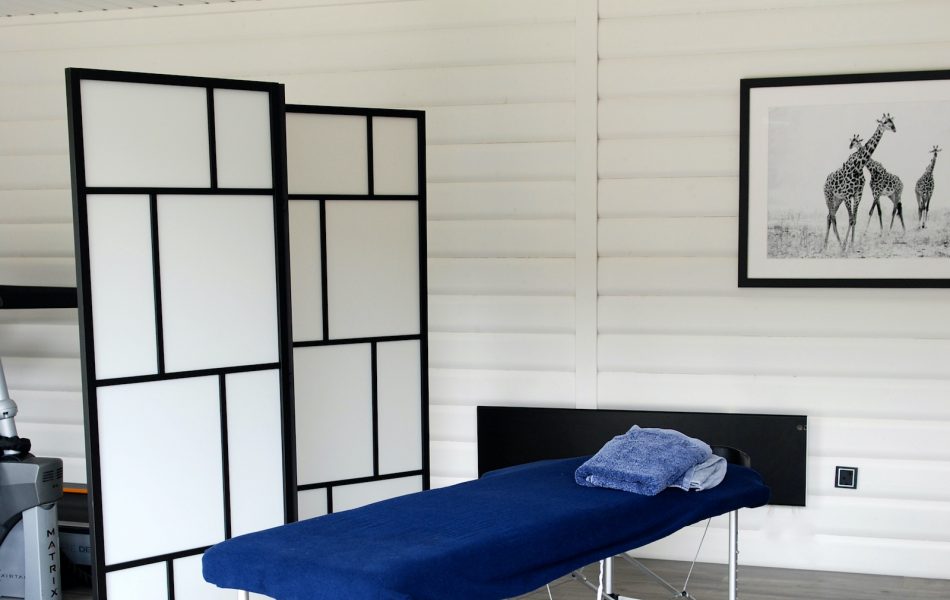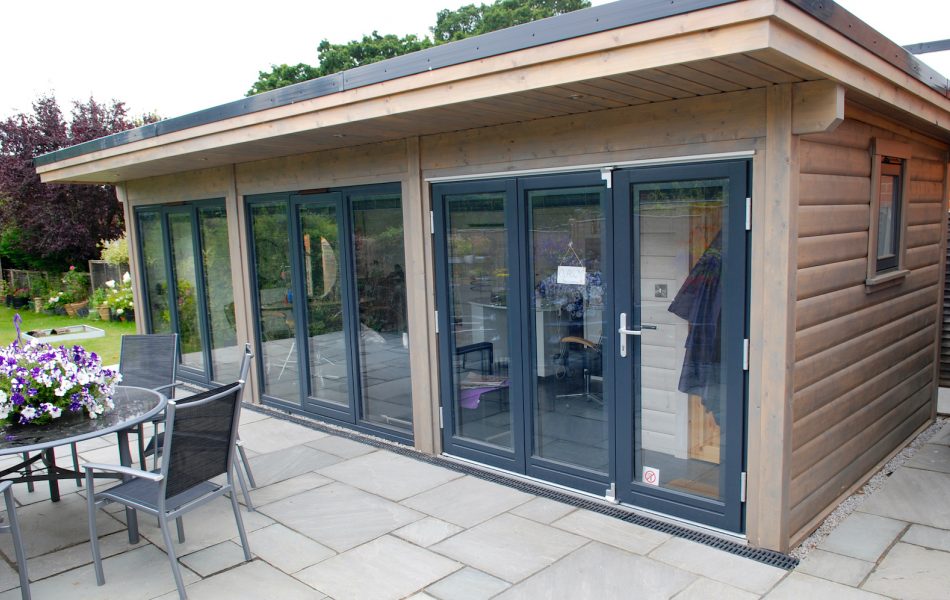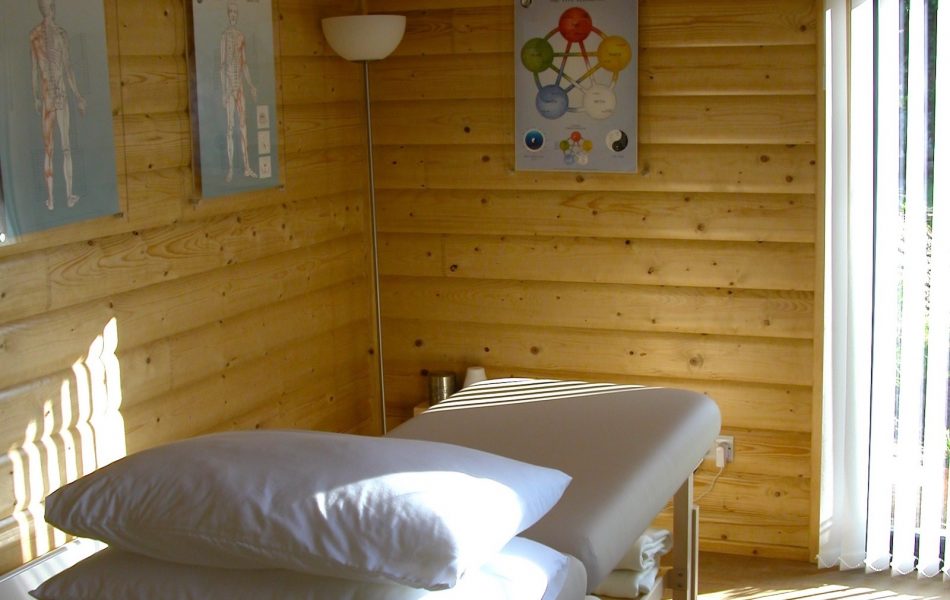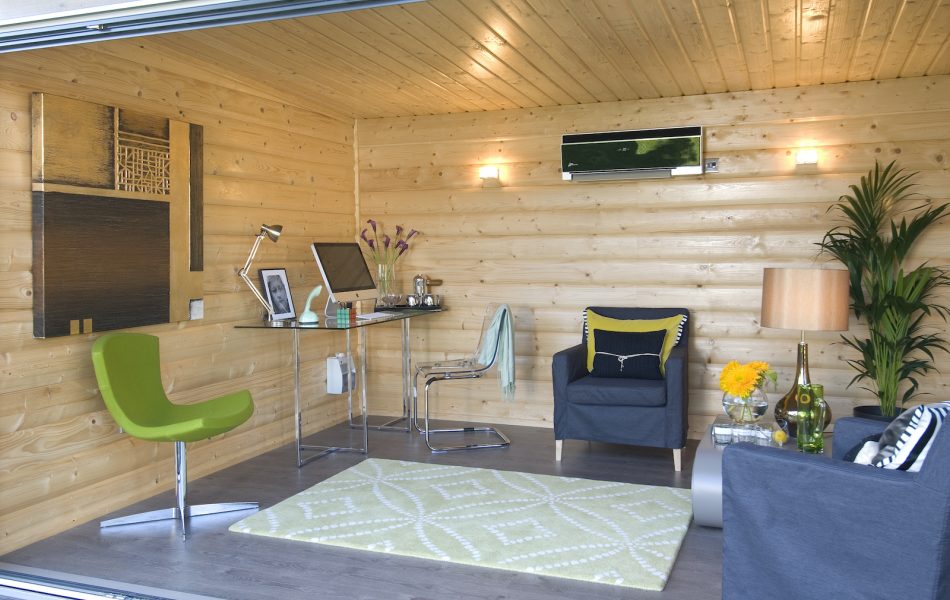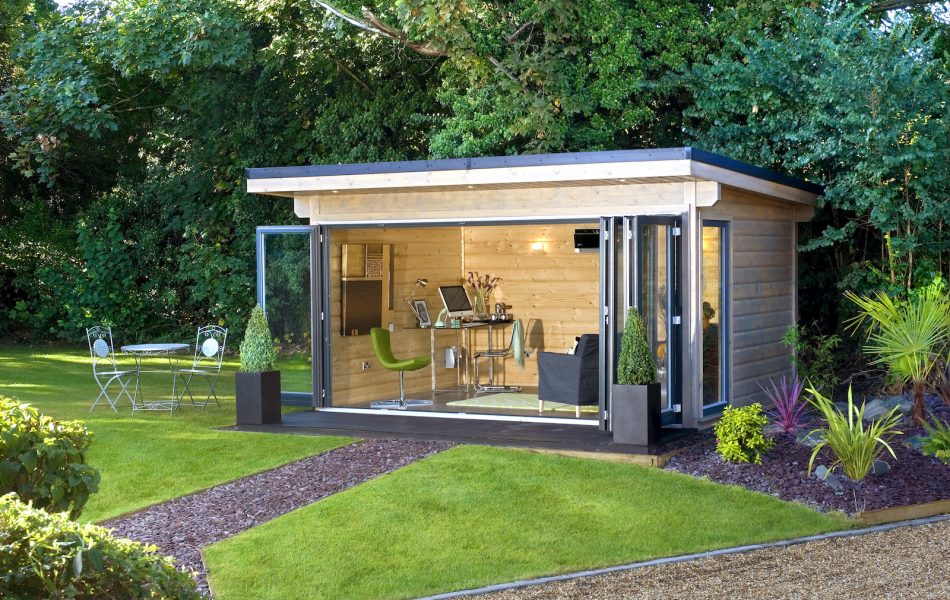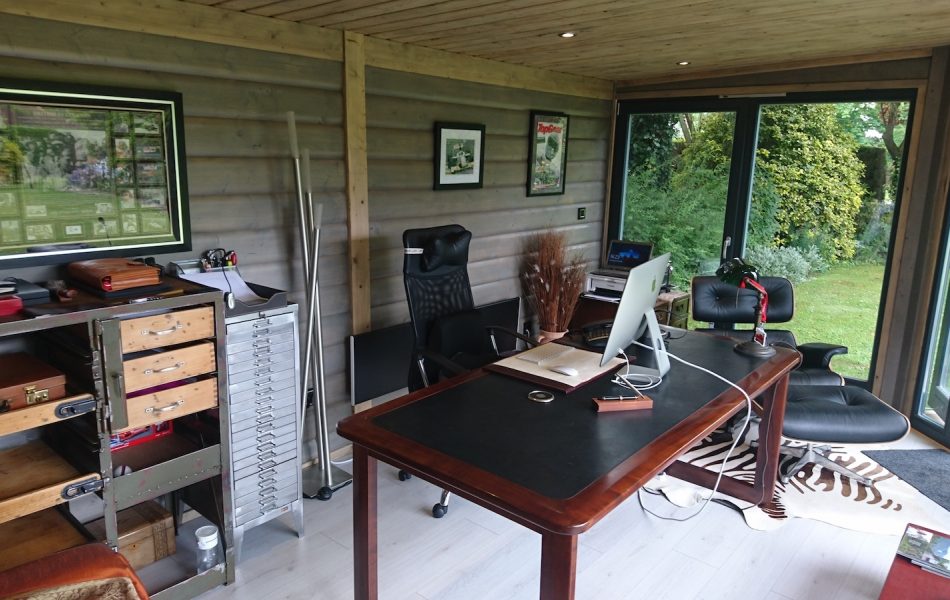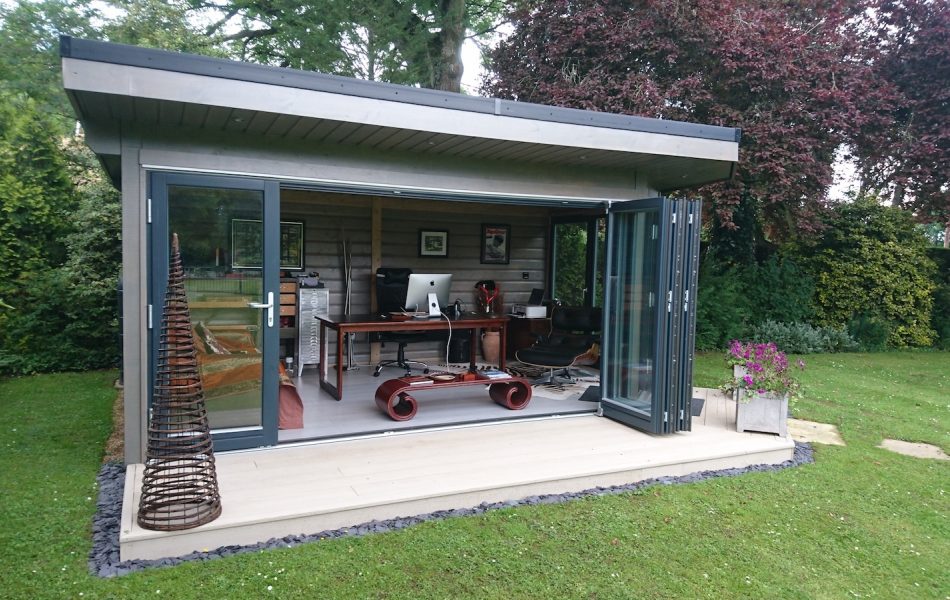 Garden Office Installation
We'll plan, design, and install your garden office for only £16,545 inc. VAT. With all lighting, power, heating and flooring included in the package, you won't have to waste time and energy finding and coordinating the various trades. Instead, you have the convenience and simplicity of personal service from a single, responsive supplier.
We really do appreciate that we're working in your garden; a space that is precious to you in so many ways. With our home offices, there's no need to find and coordinate builders, as we can provide a simple foundation solution for you. However, if you want to use a local contractor, we will provide the working drawings.
With our log technology, you can be busy in your garden office within weeks, far faster than with traditional construction methods. The way we construct your home office dramatically cuts the amount of time we spend on site, and we carry out all our work as cleanly as possible, with minimal disturbance.
We usually deliver our garden offices as relatively small components. If necessary, we can carry every component through a standard domestic doorway, giving us access to the garden. With decades of experience meeting our customers' needs, we have the expertise to match customer expectations with a first-class product.