Garden Rooms
Enjoy your hobbies and create more space with a garden room
|
Our Norwegian garden rooms are the outstandingly practical, attractive and cost-effective way to give yourself extra space at home. Get the space you need for running your business, hobbies and crafts, a teenage den, a garden office or music room. Our hassle-free package leaves you free to relax and enjoy your garden room.

Garden Room Models
Our luxury garden room range comes in three styles, and sizes are available from a compact 3m x 3m through to a spacious 7.5m x 4m, with corner options and bespoke garden rooms built and installed to your requirements.
All of our garden rooms are available in Ultra, Ekstra, or Vista styles.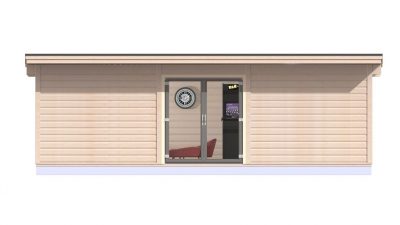 The Ultra range has a set of central French doors built into a solid log surrounding providing simplicity and security, and you can add windows and doors to suit your individual requirements.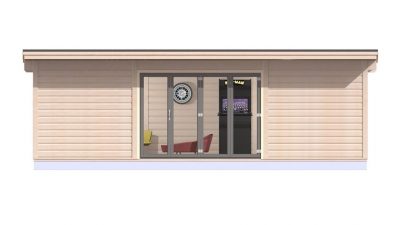 Our cosy Ekstra models have a single set of bi-fold doors centred neatly in the solid log front wall for the perfect balance of light and privacy.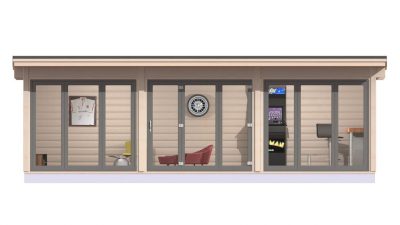 Our Vista models are glazed across the whole front wall and feature bi-fold doors for a bright, natural atmosphere.
Garden Room Sizes
All of our Ultra, Ekstra, and Vista Garden Rooms are available under 2.5m high, so you can site them close to a boundary without needing any Planning Permission. We also offer a Plus option, which is 100mm higher. Plus models naturally feel loftier. However, if you site one within 2m of a boundary, you might need Planning Permission.
A small garden room offers peace and privacy in compact proportions, and is able to fit in gardens with limited space. Far quicker and easier to install and more cost-effective than an extension, these small garden rooms start at 3m x 3m; providing a functional space for a home office, art studio or study.
With only a small space to maintain and no need for planning permission, your small garden room can be installed quickly, and has an indefinite lifespan.
Large garden rooms provide endless possibilities and allow you to pursue the dream hobby or business opportunity you've always wanted. Measuring up to 30m2, a large garden room can house a pool or snooker table, gym equipment, cinema screen, band equipment or extra space to entertain.
With an internal partition wall or two, you can add in a changing room or WC and fit your garden room out as a Poolside Room. All of our garden rooms are available in a standard height of 2.5m which allows for construction without planning permission using permitted development rights. We also offer a higher roof version at 2.6m. If the building is to be located within 2m of a boundary, this higher version will usually require planning permission.
Please see our individual garden room sizes below or contact us to learn more about our bespoke garden room design and installation service if you have a specific requirement.
Garden Room Uses
Garden Rooms are a worthy addition to any garden and unlike traditional extensions, often do not require planning permission as outbuildings are considered permitted development. For homeowners, a garden room is a perfect way to create additional space within the home. Here are a few top uses for your garden room.
A Garden Room Gym provides the perfect solution for fitness lovers looking for a comfortable space to work out all year round, allowing you to have your own personal gym without having to sacrifice essential space within your home.
Norwegian Log's customisable Garden Rooms and can be used as a versatile exercise or hobby room. Just by adding mirrors and all the equipment you need; you can have your own private garden gym.
Work from home undisturbed in your very own Garden Room Office. A garden room office can help you organise your work from home days more efficiently, helping you to be more productive and guaranteeing you the peace and quiet you need to get everything done within work hours. At the end of the day, you can close the door behind you, take a stroll across the garden, and make the most of the evening with your family.

Norwegian Log cabin offices offer a versatile and practical option for professionals who are looking to improve their work/life balance.
We all dream of having space in our home where we can truly cultivate our passions. If you're wishing for the perfect place to play, practice an instrument, or record music - a soundproofed garden music room may be the right choice for you.
Norwegian Log Garden Rooms allow you the option to add additional extras such as soundproofing, so you can avoid sound leaks and cause minimal disruption for your neighbours!
Garden Rooms can also make space for your very own garden room bar or cocktail lounge. Whether you would like a relaxing place to sit and enjoy your favourite gin selection or are looking to create your very own bespoke family bar or pub, a garden room is a perfect solution for hosting parties and entertaining your family and friends.

Norwegian Log's garden rooms are a practical and cost-effective way to gain more space, completely detached from your home.
Take a Look Inside our Garden Rooms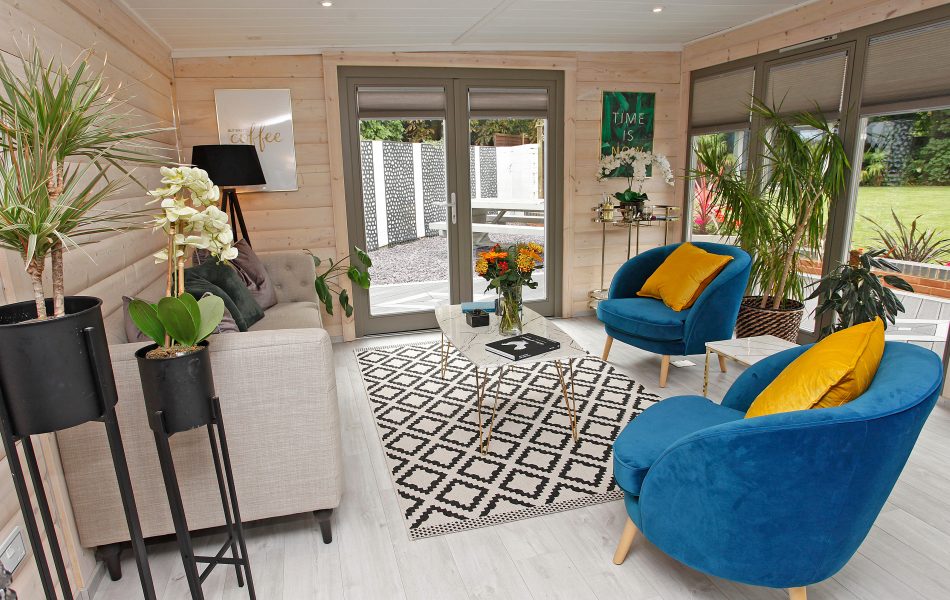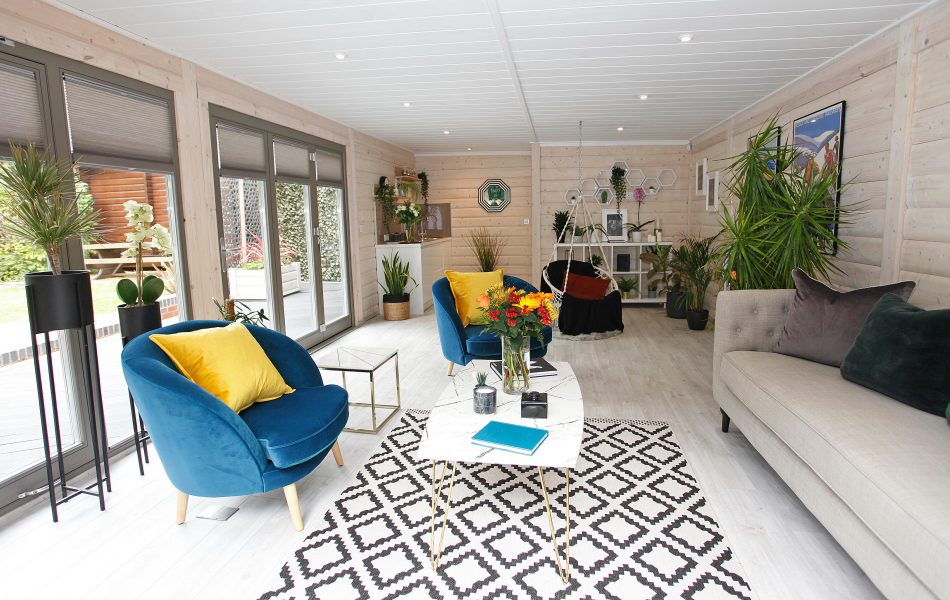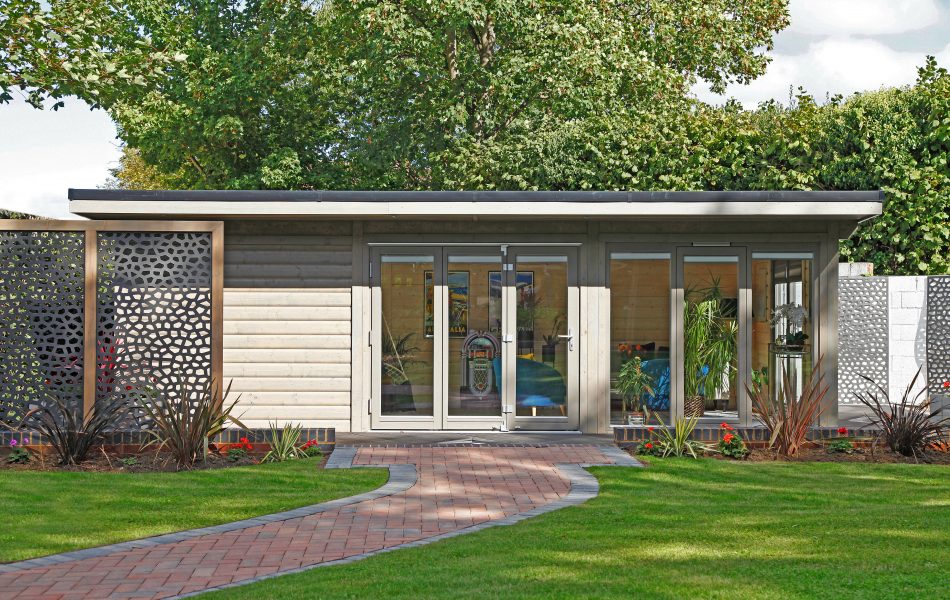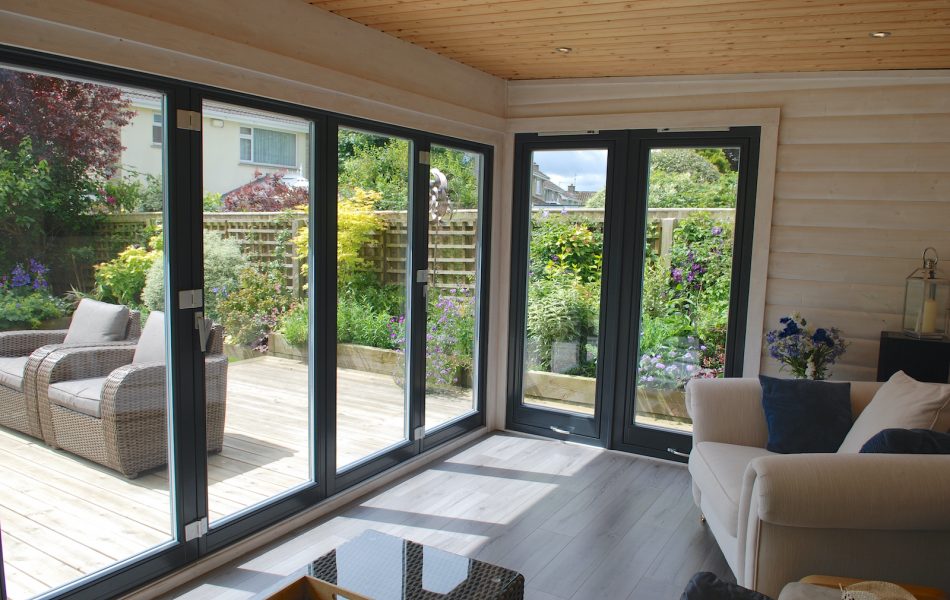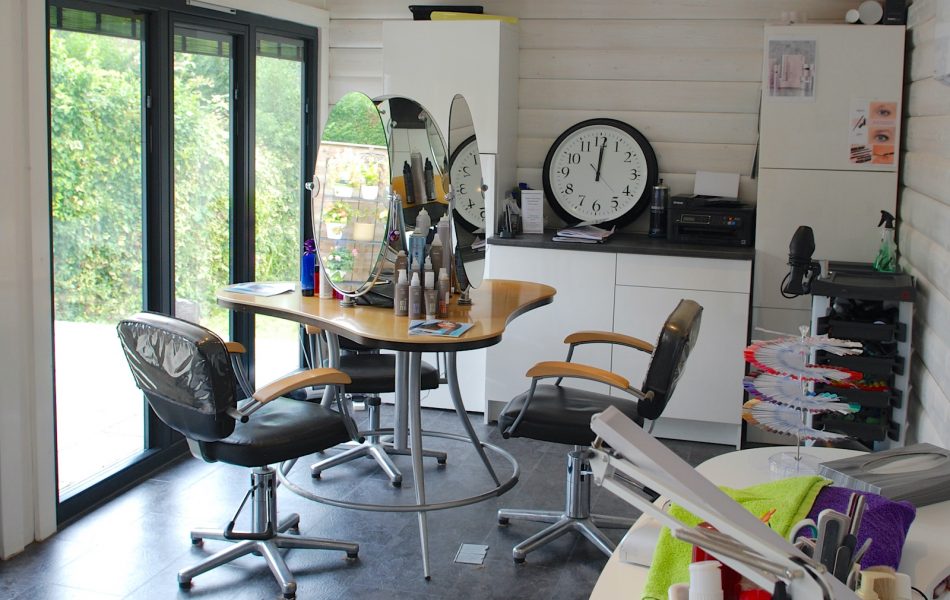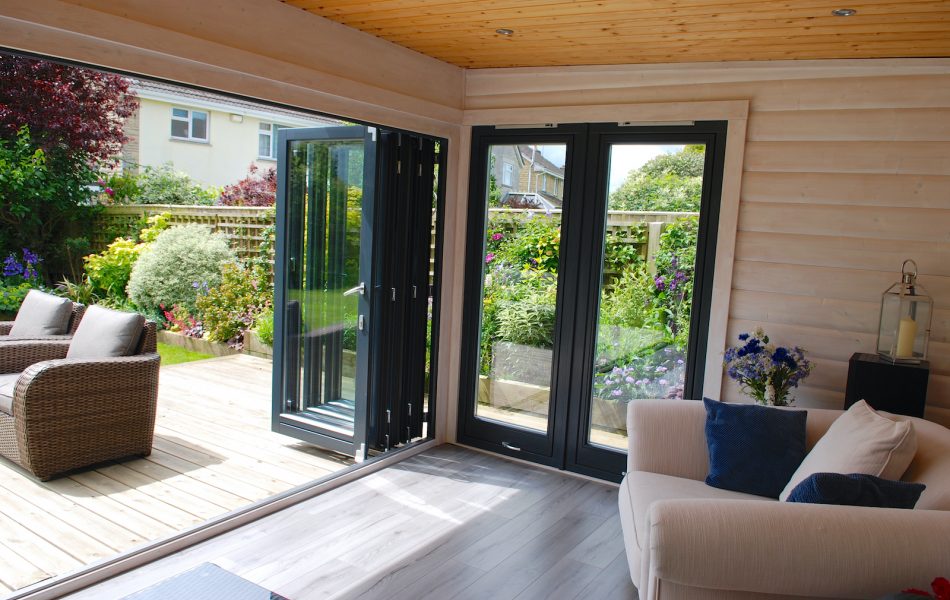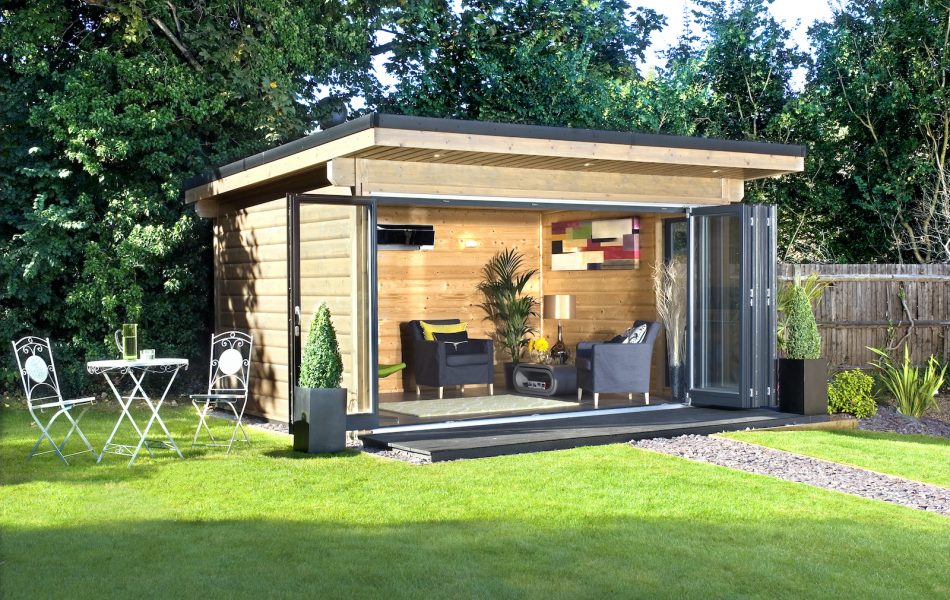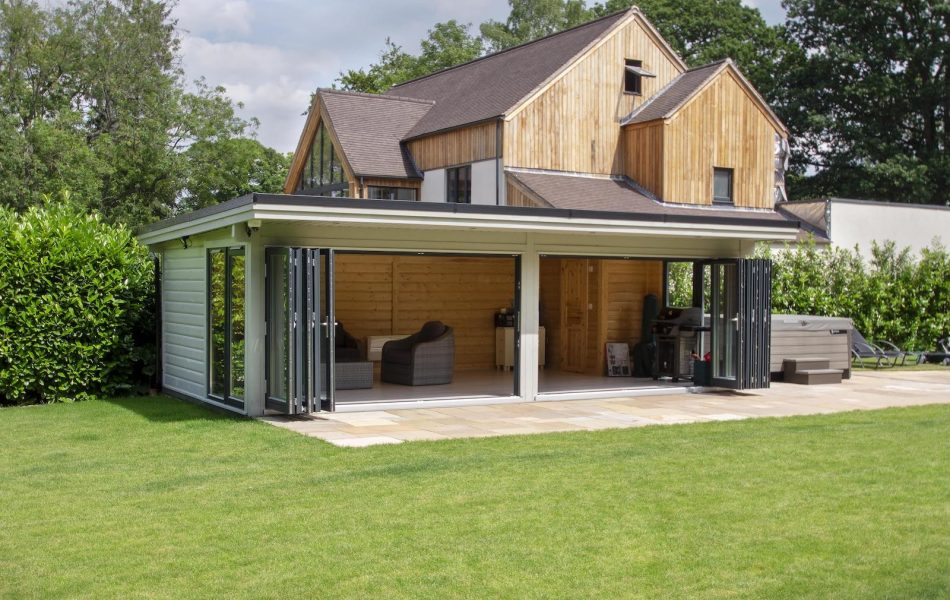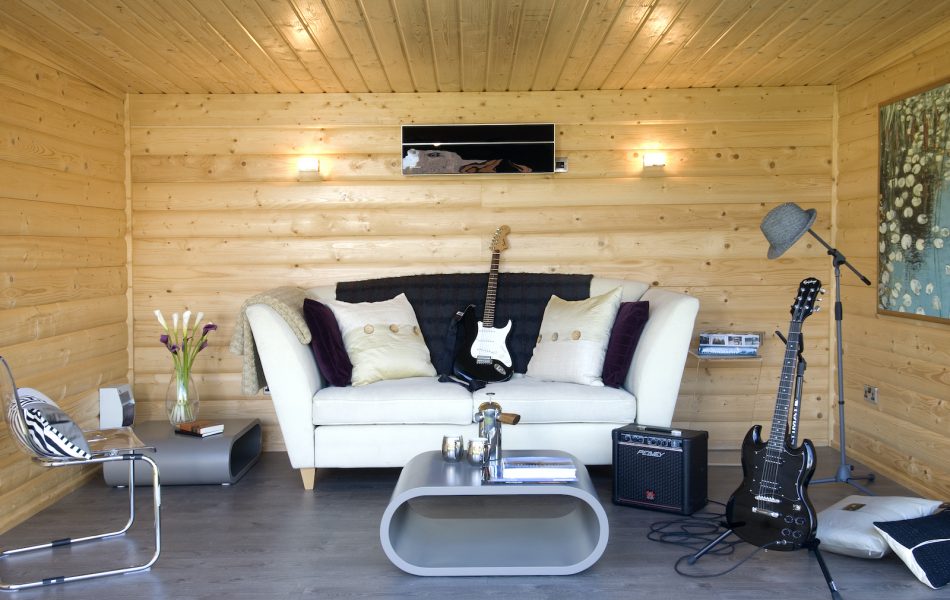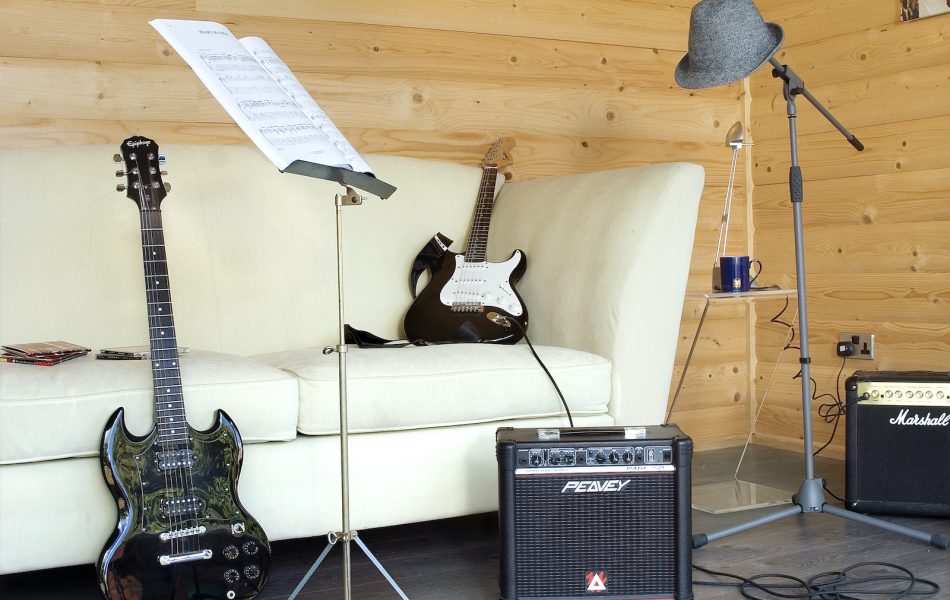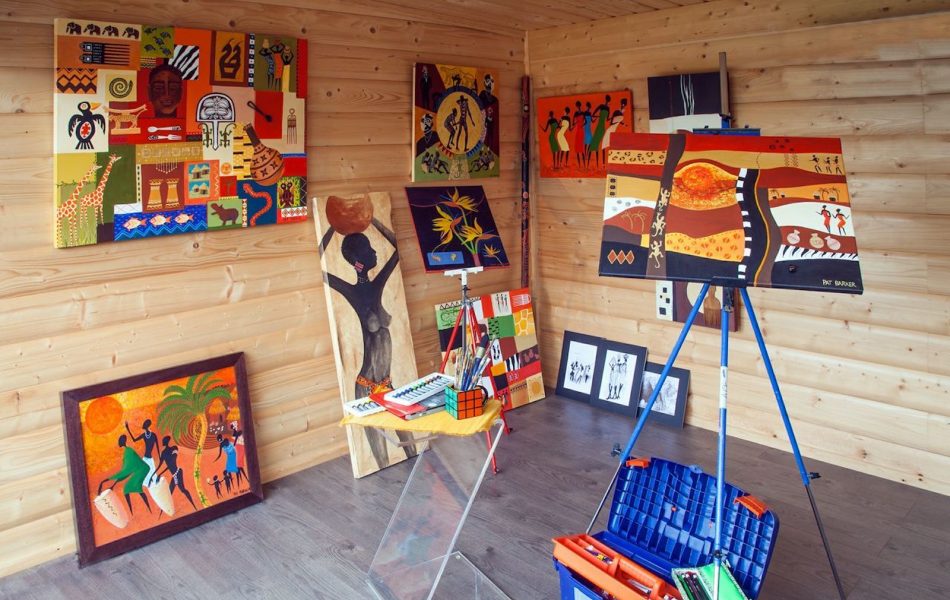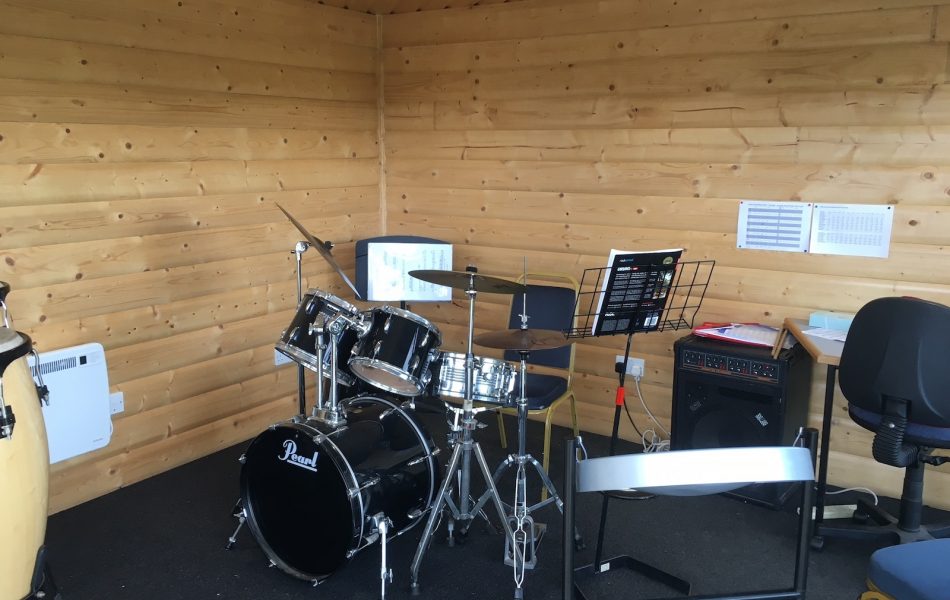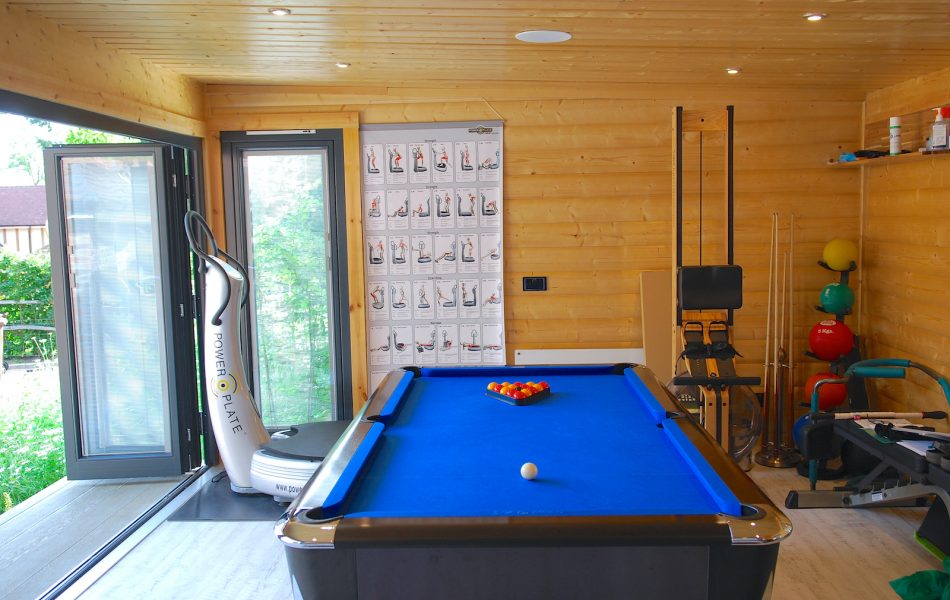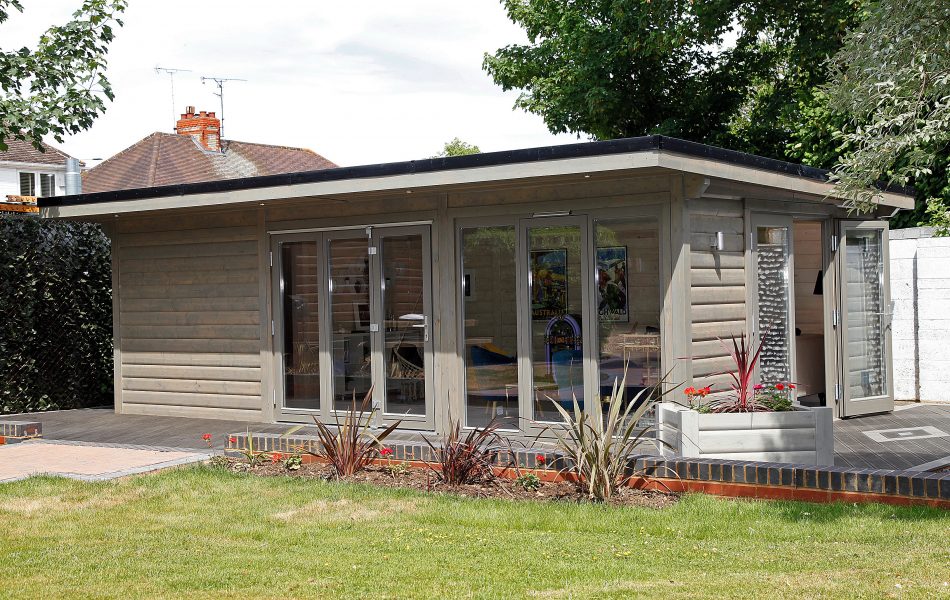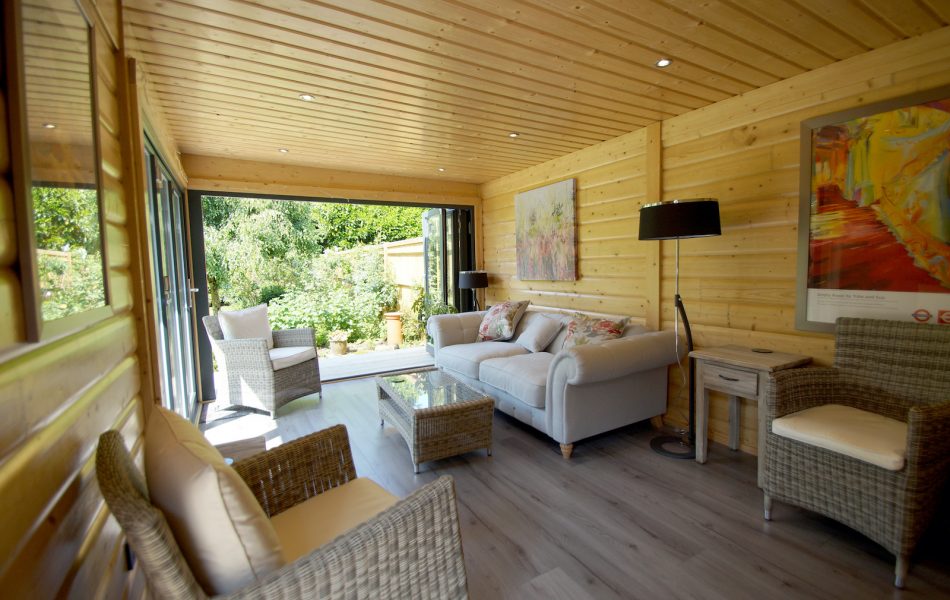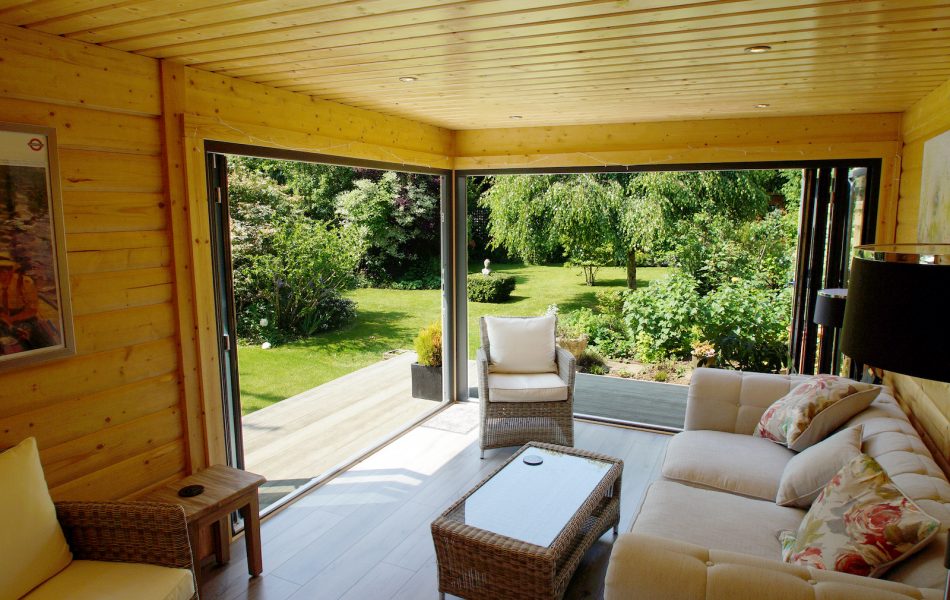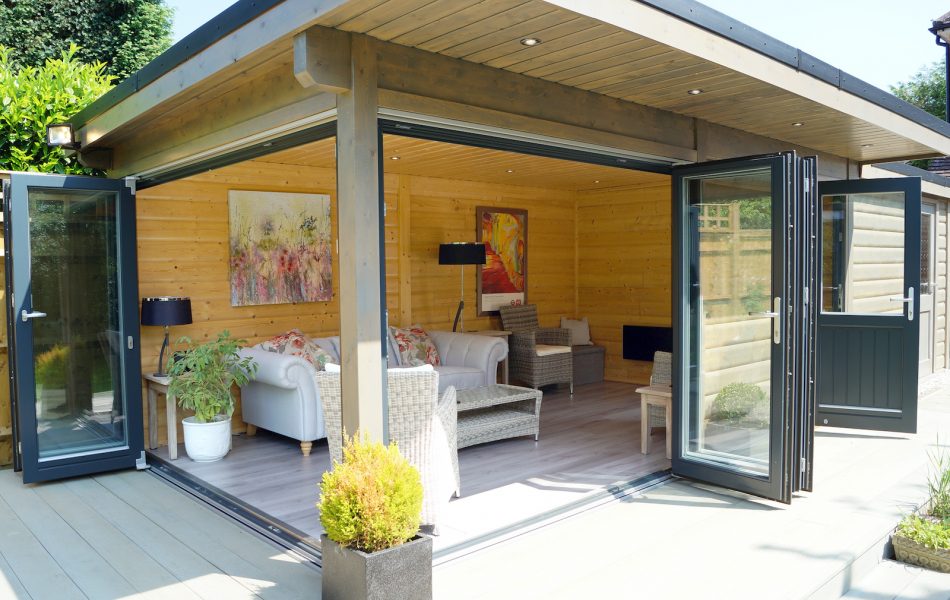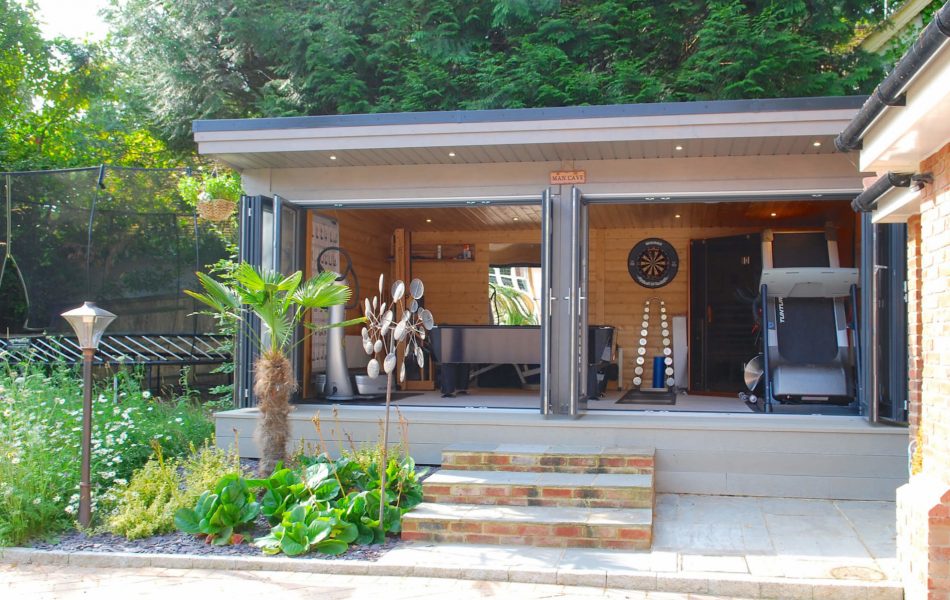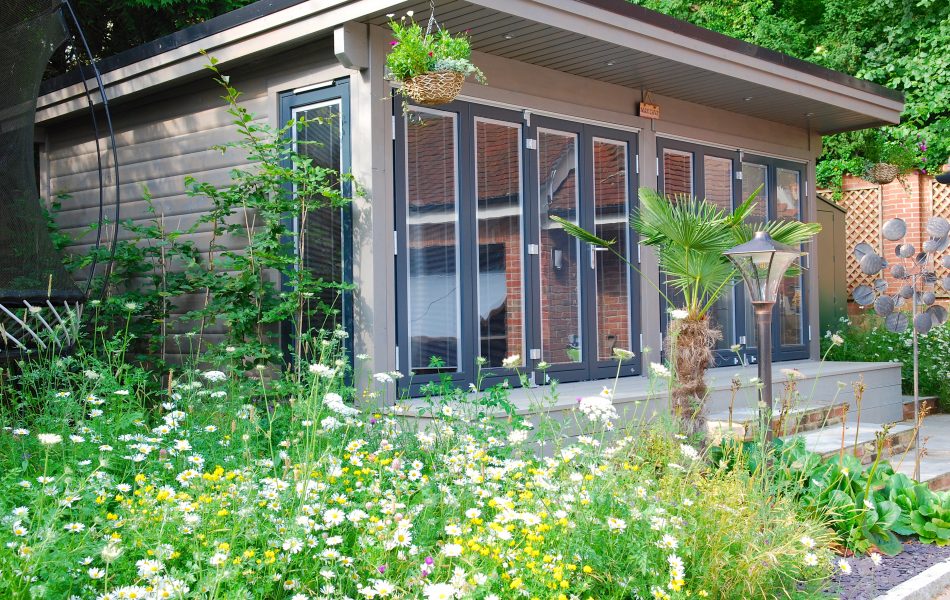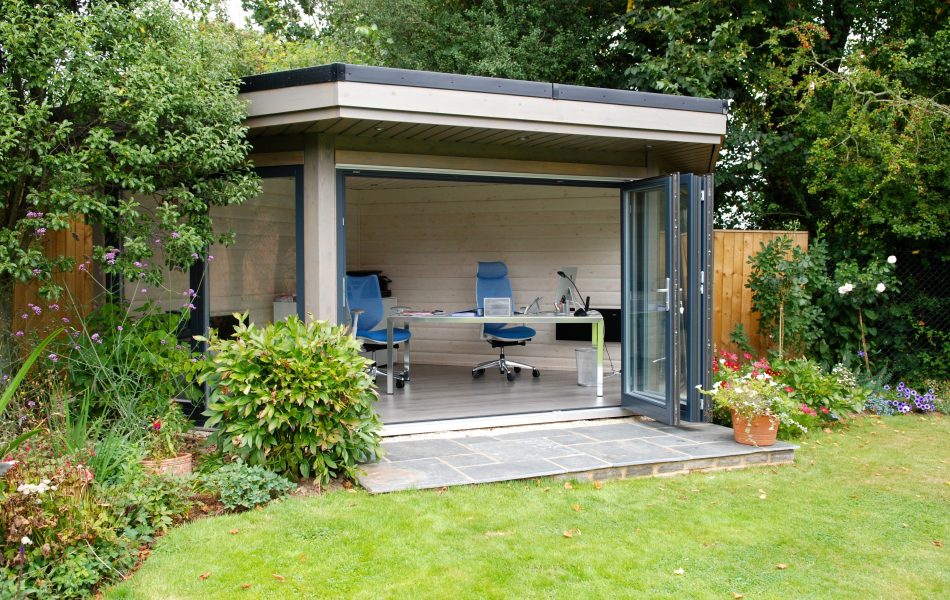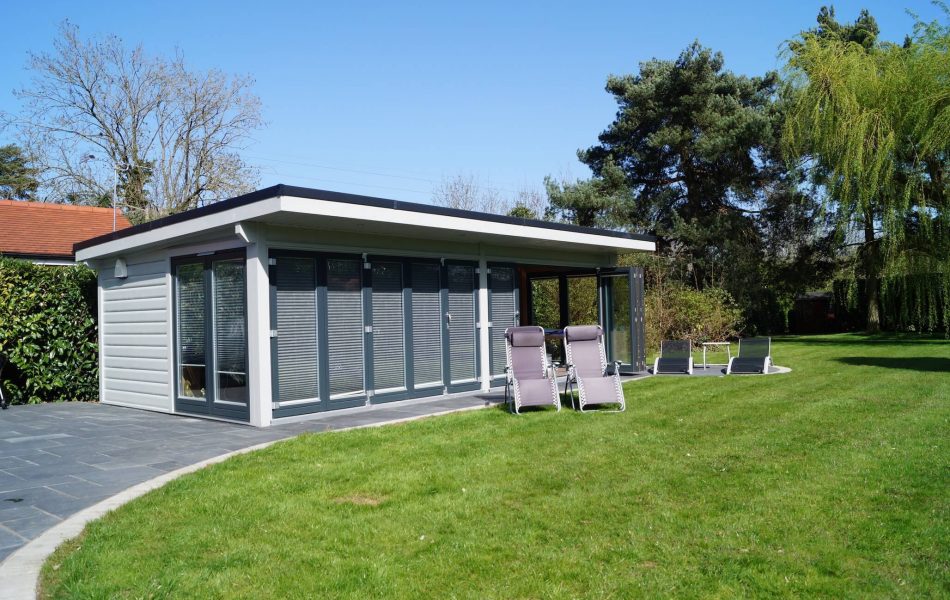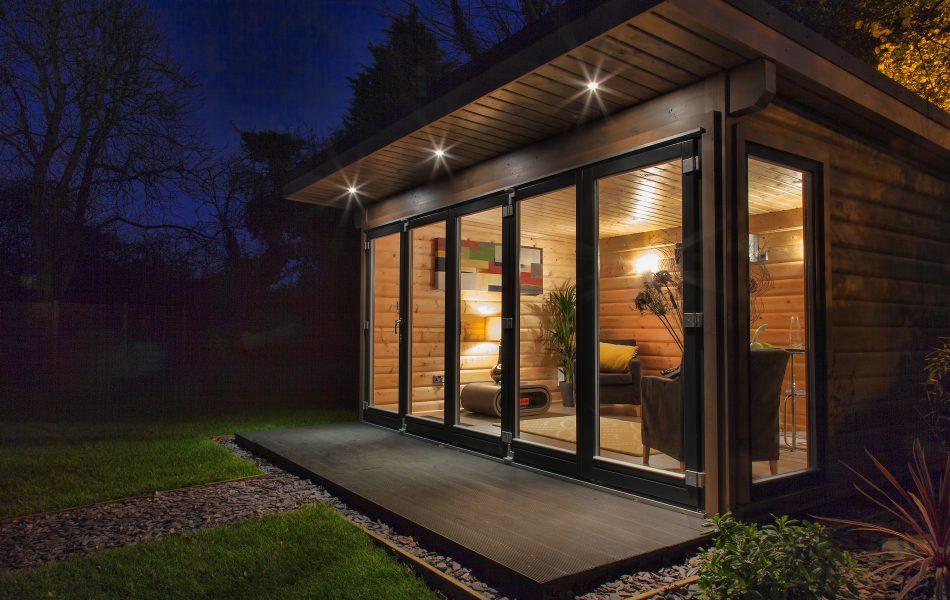 Garden Room Installation Packages
With all lighting, power, heating and flooring included in the garden room package, you won't have to waste time and energy finding and coordinating the various trades. Instead, you have the convenience and simplicity of personal service from our experienced, responsive garden room installers.
We offer a foundation system for your garden room, however if you prefer to have a base constructed by a local contractor, we will provide all necessary working drawings.
Our garden room packages can include facilities such as bathrooms, WCs, and showers to help you make the most of your new extra space. Timber floors and carpet are included, with an optional upgrade to laminate flooring available. We have decades of experience of meeting our customers' needs, so we can tackle problems and offer exciting and lasting solutions.
The customisation options available don't stop at flooring and facilities. We offer a range of heating and air conditioning installations suitable for all Garden Rooms as well as modern features such as extended wi-fi, remote-controlled lighting, and Bluetooth speakers.
From Enquiry to Enjoyment in Six Easy Steps
When we meet, we'll discuss your requirements in detail. We have immense experience in this area, so what might seem challenging to you is routine to us. We'll explore your site using our planning software, and establish whether the model you choose will fit in your garden. We'll do all we can to help you get the most out of your site and budget.
Your visit to our show homes at our Reading headquarters is particularly important. There is simply no substitute for experiencing the real thing. One of our show homes is over 30 years old, so you will be able to confirm for yourself how their ambience and style endure without dating.
On the basis of what we learn from our discussions with you, we'll provide you with a full design proposal and a comprehensive quotation.
At a time convenient for you, we'll visit your site and perform a detailed survey. We'll agree the precise positioning of your log building in your garden.
In most cases, you will not need Planning Permission for one of our log buildings located in your garden. We will give you detailed advice and explanations once we know your situation. We will always obtain a Lawful Development Certificate on your behalf from your planning authority, which will confirm that you do not need Planning Permission if that is indeed the case.
Once we have your LDC we can start producing your log building. We understand that you need certainty, so we will give you a confirmed delivery date as soon as possible. We install your log building quickly and cleanly, with great respect for your garden and main home, before a prompt and smooth final handover.
Case Studies
The Norwegian Log team has been working to make dreams a reality for over 25 years. Take a look at some of our work and happy customers.