Garden Gyms
Garden Room prices starting at £14,955
Low running costs
Quick and clean installation
No Planning Permission
Luxury gym for your home
Warm up and down with a stroll across your garden. Avoid subscriptions, bookings and travel. Our garden gyms are the outstandingly convenient, attractive and cost-effective way to work out at home. The Norwegian Log Effect™ gives you the perfect environment for exercise: light and airy, easy to warm or cool, and with that peaceful, natural feel of a summer house or log cabin.
Our home gyms are 12-30 m2 (130-323 sq.ft.). We have developed our standard range of outbuildings over the years to satisfy virtually all requirements, while our bespoke design service is available should you have specific needs for your log cabin gym.
We can also help you make more of the space available in your garden, because our patented jointing system means we aren't limited to walls at right angles. We can fit your home gym elegantly across a corner, for example, or in some other nook in your back garden.
Our garden gyms can easily include kitchen facilities and other features to help you make the most of your leisure time.
Minimal running costs
Cost-effectiveness, speed and simplicity make our garden gyms the sensible alternative to conventional garden gym buildings and extensions. There's no disruption to your main house, no need to find and coordinate builders, no messy deep foundations.
Our draught-free home gyms have a high level of natural insulation, thanks to the robust solid log, giving you comfortable year-round use with low running costs.
Only minimal maintenance is required to give your home gym an indefinite lifespan, giving you further savings and preserving the value of your investment.
Installed far faster than traditional buildings
With our log technology, you can have your garden gym up and running far faster than with traditional construction methods. The way we work dramatically cuts the amount of time we spend on site, and we carry out all our work as cleanly as possible, with minimal disturbance. We really do appreciate that we're working in your garden, which is precious to you in so many ways.
We usually deliver our garden gyms as relatively small components. If necessary, we can carry every component through a standard domestic doorway, giving us access to gardens where we can't use a crane.
On some sites, we may be able to deliver our garden gyms as modules or prefab elements, which we pre-assemble in our own factory under ideal conditions. This modular approach reduces the time needed on site to install your outdoor gym building to just a few days.
No need for Planning Permission
In most cases, you won't need Planning Permission or Building Regulations approval for our garden gyms, saving you time and trouble. You can read more about this in our guide, or contact us for straightforward advice.
Prefer the traditional log cabin look?
This page details our Stylish Contemporary range of garden gym buildings. Our contrasting Timeless Traditional home gyms feature distinctively Scandinavian design. This gives you the classic log experience plus virtually all the advantages described above. Please contact us for further information.
Most frequently asked questions
Can I modify one of your standard designs?
We manufacture all our buildings individually, so we have extensive scope to customise the design to your special requirements.
Do I need Planning Permission for a building in my garden?
In most cases, no, provided it satisfies all the criteria for Permitted Development. Outbuildings are considered to be permitted development, subject to the following conditions:
The outbuilding is not to the side of a house on designated land (includes national parks and the Broads, Areas of Outstanding Natural Beauty, conservation areas and World Heritage Sites). Note that outbuildings are permitted development within the grounds of a listed building.
The outbuilding is not forward of the principle elevation of the original elevation of the house.
The outbuilding and other additions must not exceed 50% of the total area of land around the original house. Sheds and all other outbuildings and extensions to the original house must be included when calculating this 50% limit.
The outbuilding must not itself be separate, self-contained living accommodation.
The outbuilding is single storey with a maximum eaves height of 2.5 m and a maximum overall height of 4 m with a dual pitch roof, or 3 m in any other case.
If the building is within 2 m of the property boundary, the whole building must not exceed 2.5 m in height.
Any veranda is no higher than 300 mm.
We strongly advise that you check with your local Planning Office before proceeding. If you want to avoid all planning issues, take a look at our Contemporary buildings. They feature a different, distinctively contemporary, look, and fall within the 2.5 m height limit for planning close to boundaries.
Do I have to prepare my own base?
If you wish. We'll provide a drawing and specification for the base when we receive your order. Or we can handle it for you. Our service includes providing a quotation for the base and associated works once we've inspected your site.
What are your typical build/lead times?
Once you are in a position to place an order our standard delivery times are 6-8 weeks from firm order (although this can vary at time of order). The time on site can depend on whether we deliver a modular annexe that is pre-assembled in our factory involving several days on site. Alternatively, assembly on site of the whole unit including internal fit will involve several weeks depending on the size of the unit.

Is my Norwegian Log building guaranteed?
All our buildings have a full five-year warranty, provided they are maintained to our recommendations. You can extend the warranty to 25 years when you join our optional warranty inspection plan.
Do you install all over the country?
Over the last 20 years there are probably very few areas that we have not installed a building and we are geared up to work nationwide
Will my building require Building Regulations approval?
Provided your building's internal floor area is less than 15 m2, or 30 m2 if it is more than 1 m from a boundary, Building Regulations should not apply. We strongly advise checking before proceeding. Buildings over 30 m2 require a full Building Regulations application, which we can handle for you.
Will my Norwegian Log building arrive in one piece or in panels?
We assemble most of our buildings on site log by log, which enables us to access the most awkward sites. We will deliver your building to your site in wrapped packs, which we unload in bulk by forklift or carry as individual logs for ease of access. A walkway down the side of your house or a straight run through your house should be sufficient. We'll inspect your site to confirm that access is suitable. If there are no restrictions on access, we can pre-assemble some buildings in the factory and deliver them to your site in convenient modules.
Will I have any difficulty insuring my Norwegian Log building?
Our logs have a ½-hour fire certificate carried out by TRADA (Timber Research and Development Association) to a British Standard. Our clients have had no difficulties in obtaining insurance. Note that if your building requires Building Regulations approval, the structure must conform to all requirements under Building Control, including fire resistance.
Testimonials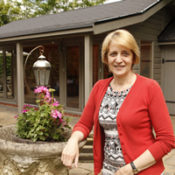 "I wanted a gym, space for entertaining and a playroom – our Garden Room does it all. We were even able to have a tool store attached. It looks delightfully elegant, yet it's so strong and solid."
Lorraine Rich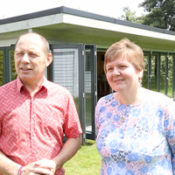 "Modern, open – fits our type of house and all our criteria. It's so light and airy… makes me even more creative. So impressed with the building team, construction had very low impact on our lifestyle. Superb workmanship."
Paul & Françoise Read