Lillehammer 3 Bedroom Log Home / Annexe
Starting from £102,265
|
87.20m² (938 sq.ft)
|
The Lillehammer three-bedroom log cabin is a stylish, premium quality, eco-friendly and sustainably sourced transportable log home perfect for use as a family annex, rental prospect or farmhouse replacement.
The log's high level of natural insulation delivers a contemporary building that's warm in winter and cool in summer, with minimal energy costs. In addition, the strong and durable log construction requires minimal maintenance, and the warranty can be extended to 25 years for long lasting reassurance.
With plenty of space and multiple bathrooms, the Lillehammer is suitable for year-round occupancy, and the single storey plan and versatility means it can be a 'forever home'.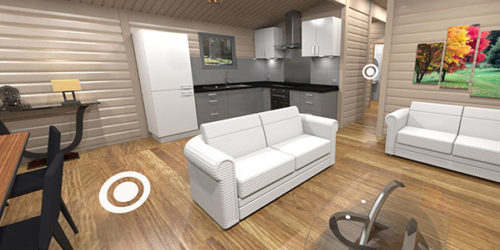 Explore the Lillehammer Virtual Showroom
360 Virtual Tour
Full Fit Out
Includes kitchen, bathroom, electrical, plumbing. Price available on request
Bathroom & kitchen
Lighting, power & heating
Floor covering
Ready to move in