Granny Annexes
Annex installed price starting at £48,000
Full fit Granny Annex Package starting at £69,995 (within 50 miles/1hr of Reading)
Simplified planning process (no planning in most cases)
Exempt from Building Regulations (no concrete slab foundation required)
Quick and clean installation
Saves on VAT (zero rated)
The perfect granny annex
It's the Norwegian Log Effect™ that makes our mobile log cabins perfect as granny annexes. The light and airy layout. The low energy and maintenance costs. And the comfort and convenience of a home designed by experts in the field. Plus a choice of style: classic log cabin, or a more contemporary interpretation. And not least, a five-year extendable warranty.
Our garden annexes aren't just for granny. Need more space for guests? They'll enjoy being in one of our cosy garden chalets. Need a 'granny annex' home for boomerang children? Stylish and self-contained, our home solutions offer comfort and privacy for everyone in the family. These home annexes offer independence with a safety net, ideal for those with disabilities, additional needs or depend on being close to home and familiar faces.
Cleverly designed layouts
Our versatile construction system makes it easy to achieve the layout you want. Our portable granny annexes offer functional spaces for kitchen, shower/WC and everything else you would expect for comfortable, self-contained living. Alongside our pitched roof buildings, which offer airy vaulted ceilings, we also offer mono-pitch mobile homes that you can install closer to a boundary, or where light might be an issue. Make more of your existing building footprint too - log annexes are ideal if you're looking to replace an existing garage or farmhouse with something more practical.
Low running costs
Log's high level of natural insulation helps keep energy costs low throughout the year: a home that's not only cosily warm in winter, but also pleasantly cool in summer. Our cabins require only minimal routine maintenance for an indefinite lifespan (see below for warranty information), which also contributes to their low running costs.
For business applications too
Our garden annex buildings are the quick, economic and versatile way to increase your garden's income potential. You can offer more B&B rooms, or offer a self-contained home in your garden for rental. Business use is subject to a different Planning regime, of course, so please consult a professional.
Choose your granny annex style
Timeless Traditional
Our Timeless Traditional range offers:
Interlocking logs in the classic Norwegian style
High-precision, computer-controlled cutting and shaping
Immensely strong, draught-free homes
Stylish Contemporary
Our Stylish Contemporary range offers:
Possibility of huge glazed areas
Intriguing design options
Draught-free strength and durability
Extendable 5-year warranty
For your reassurance, all our granny log cabins have a full five-year warranty, provided you comply with our maintenance recommendations. And you can extend your warranty to 25 years by joining our optional warranty inspection plan.
Granny Annex Planning Permission
In most cases, you won't need Planning Permission or Building Regulations approval when you install one of our transportable homes. You can read more about this in our guide to mobile home Planning Permission, which also explains where you can locate an annex in your garden. Or contact us for straightforward advice.
We do recommend that you obtain a Certificate of Lawful Development from your Council, which we can handle on your behalf. If Planning Permission is required, our experts will be happy to guide you through the process and deal with the application.
Another advantage of our transportable homes as granny annexes is that there's no VAT to pay – a big saving on your initial costs.
Quick and clean annex installation
We'll erect your wooden granny annex quickly and cleanly, with minimal disruption to your garden. We can usually deliver your Stylish Contemporary annex turnkey package pre-assembled in our factory, further reducing the time on site and allowing you to move into your new home in days. If access is awkward, we can carry all of the prefabricated components for your annex either down the side of the house, or even through a domestic doorway.
Granny annex options available
Annex installed pricing option
Our price covers the whole insulated weatherproof structure of the granny annex that we erect on your base. That includes roof, internal walls, windows, doors, floors and decoration, but not fitting out items such as mains services, kitchen fittings, bathroom, electrics, plumbing and floor coverings. We provide complete working drawings for you to give to the contractor(s) you choose to fit out your granny annex.
Convenient fit out service option
Alternatively, for the ultimate in timesaving convenience, our turnkey packages also include fitting out. This service is available for sites within 50 miles/1 hr of Reading.
Prices for fully fitted-out granny annexes start at £69,995 and include kitchen, bathroom, electrics, plumbing and floor coverings.
As with all our buildings, you arrange the groundworks and main services. We provide complete working drawings for the groundworks for you to give to your contractor(s).
Not sure which option might be best for you? Contact us and discuss your situation with one of our experts.
Most frequently asked questions
Do I need planning permission for my granny annex?
That will depend on how your annexe is constructed. In most cases a Norwegian Log granny annex does not require planning permission because our annexes are classed as a mobile home. We do however apply for a Certificate of Lawful Use on your behalf, which confirms that planning permission is not required.
How does the annex arrive at my house?
We have two methods. If there is sufficient access we can deliver our modular system annex to site in sections that have been pre-assembled in our factory, the sections are then lifted into position by crane. If access for a crane is not available then the alternative is for the pre-manufactured components to be delivered to site in a flat pack and the annex is assembled on site by our expert technicians.
Can you deliver a granny annexe to a site with restricted access?
Yes, the components can be walked down the side of the house and if necessary through the house provided there is a straight run.

Can my granny annex be relocated at a later date?
A modular granny annex can be removed in exactly the same way as it was delivered. Our traditional log style annexe's can be taken down and re-assembled elsewhere. However, in our experience once an annexe is installed for the use of family members, there would be little reason to remove it at a later date.
Do you have to pay council tax on a granny annex?
All annexes typically require that they are used by a family member. Most are built with elderly care in mind and are therefore exempt from Council Tax.
If the annexe owner is not classed as a dependent relative then Council Tax is payable at 50%.
Do granny annexes come fully fitted out with kitchen and bathroom?
If you live within a 50 mile radius of Reading we can undertake the fit out for you. Outside of that area we provide all the working drawings you will need to give to local contractors who will undertake the work on your behalf.
Do I need to have Building Regulation approval?
No, not with a Norwegian Log granny annexe which is classed as a mobile home and is exempt from Building Regulations.
What guarantees and after sales packages do you offer?
Norwegian Log offer a full 5 year warranty on the structure of the annexe which can be increased to 25 years by taking out our bi-annual inspection plan.

Testimonials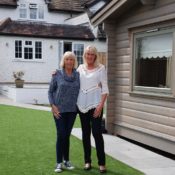 "It's so warm and well insulated, I just think it's excellent"
Granny Annex, Buckinghamshire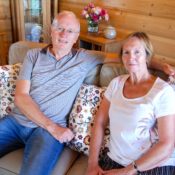 "You can design it to match your exact needs. And it feels a bit like you're on holiday the whole time. It's so lovely"
John & Rosemary Young
Find out more
To see one of our transportable home granny annexes for yourself, or to start discussing your plans, please contact us to make an appointment with one of our experts.
Book Appointment