Mobile Log Cabins
Prices starting at £48,000
Low running costs
Extendable five-year warranty
Comply with Caravan Act
Choose your transportable log cabin style
Our mobile log cabins are available in both Timeless Traditional and Stylish Contemporary ranges. Whichever you choose, we're sure you'll enjoy and value the Norwegian Log Effect™ for many years.
All our transportable homes are immensely strong and durable, and come with an extendable five-year warranty. In fact, our mobile log cabins have an indefinite lifespan with minimal maintenance. This keeps your running costs low and preserves the value of your asset – unlike a caravan.
We can usually install your mobile log home within just weeks of receiving your order and with minimal time on site.
Timeless Traditional
Our Timeless Traditional mobile log homes feature interlocking logs in the classic Norwegian style. We deliver the log components to your site in bulk, but we can move them to their final positions individually. That means we can usually install our transportable log cabins even on sites with difficult access.
Stylish Contemporary
We make our Stylish Contemporary mobile log cabins using our own patented joint system, which offers exciting new design opportunities.
We deliver these transportable log cabins as substantial modules to suitable sites. We pre-assemble the modules in our own factory under ideal conditions, saving even more time on site. We can also deliver them as small components to sites with difficult access.
Huge range
Huge range of standard layouts and sizes
From compact one-bed log cabins to four-bed mobile log homes with en suite and family bathroom
Prices from only £48,000 (Timeless Traditional) and £49,000 (Stylish Contemporary)
Ask about our bespoke design service to create a truly individual home
All are fully compliant with the Caravan Act (see below), which can simplify Planning and Building Regulations requirements.
Lodge installed pricing option
Our price covers the whole insulated weatherproof structure of the lodge that we erect on your base. That includes roof, internal walls, windows, doors, floors and decoration, but not fitting out items such as mains services, kitchen fittings, bathroom, electrics, plumbing and floor coverings. We provide complete working drawings for you to give to the contractor(s) you choose to fit out your lodge.
Transportable log homes for granny annexes, rural enterprises and leisure site developers
Granny annexes
Cosy and easy to manage granny annexes
Short lead times from ordering
Minimal time on site
When you need a mobile home in your garden for a family member (e.g. as a granny annex), we can apply for a Certificate of Lawful Use (CLU) on your behalf. The CLU confirms that you don't need Planning Permission.
Replace an existing mobile home
If you have an old mobile home/caravan (sited with a Certificate of Lawful Development), we can replace it quickly and easily with one of our substantial mobile log cabins.
Rural employers, farmers and smallholders
Harmonise effortlessly with the rural environment
Quickly and cost-effectively installed
Comfortable homes for employees or family members
Our transportable log cabins meet the requirements of NPPF Paragraph 55, and your Certificate of Lawful Use (CLU) to establish a temporary dwelling, subject to your business circumstances. We can even apply for a CLU on your behalf. If you aren't sure about the implications of all these regulations, contact us and we'll talk you through them.
Leisure site developers
Fully compliant with the Caravan Act
Quickly and cleanly installed
Indefinite lifespan with minimal maintenance
Our mobile log cabins deliver a premium holiday experience that will keep visitors returning year after year.
Caravan Act – Planning permission for mobile log homes
Our guide to Planning Permission for mobile log cabins explains:
How our transportable log homes comply with the Caravan Act
Why compliance can simplify Planning Permission in many kinds of applications
If you still have any questions, simply call us and discuss your situation with one of our experts.
Most frequently asked questions
Can I live in a Norwegian Log transportable home all year round?
We manufacture all our transportable homes to the very highest Norwegian standards. They will be cosy in winter and cool in summer, and therefore ideal for year-round use.
Can I replace an existing mobile home with a Norwegian Log transportable home?
Generally yes, provided you have the necessary local authority permissions. We normally recommend seeking a Certificate of Lawful Use. Our transportable log homes conform to The Caravan Act, and we build them to the relevant British Standards. We strongly advise that you check with your local Planning Office before proceeding.
Can you deliver a Norwegian Log transportable home to a site with restricted access?
Subject to local authority approval, we can deliver to awkward and/or narrow access sites. We have extensive experience of delivering to difficult sites, and will be able to assemble your building on your site and conform to all criteria under The Caravan Act. Please speak to one of our advisors, and discuss your access with us.
Testimonials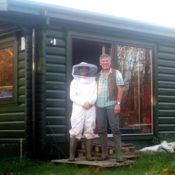 'Norwegian Log was absolutely fantastic. Their can-do attitude really impressed us.'
Roger White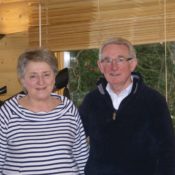 'Norwegian Log helped us develop the living space we wanted quickly and economically.'
Sally and Brian Knight