Residential Log Cabins
Prices starting at £46,000
Low running costs
Extendable five-year warranty
Simplified Planning Permission
Your new log home
When you're considering a log home as a permanent residence, it's easy to leap ahead and picture it all: find your perfect plot, build your log home and move in. What could be simpler?
In fact, a residential log home faces the same hurdles as a bricks-and-mortar home: Planning Permission, Building Regulations, expensive foundations... the list goes on.
However, here at Norwegian Log we can keep your plans on track, with the perfect answer to that "What could be simpler?" question. We do have a simpler solution. It's faster and more economical, yet still gives you the log home you want to enjoy and be proud of.
Our solution – the mobile/transportable log home
Our simpler solution is our mobile/transportable log homes, which are the only ones that give you The Norwegian Log Effect™.
Peaceful and spacious inside, our mobile log homes have a low external visual impact that's ideal for environmentally sensitive areas.
What's more, they comply fully with the Caravan Act. This greatly simplifies – or even eliminates – Planning Permission and Building Regulations. This area is so important that we've put together a simple guide to Planning Permission for mobile log homes. The guide includes some quick checklists to help you decide whether you'll need Planning Permission for your mobile log home. But if you have any questions, call us and discuss your situation with one of our experts.
Things to consider about siting your residential log home
We also have an informative checklist of the top ten things to consider when you're looking into siting a mobile log home. Originally published in Home Farmer magazine, it contains a wealth of information for any potential mobile log home owner.
What kind of mobile log home are you looking for?
Private buyers
The quick, clean solution when you want to:
Create a log home for yourself
Provide extra accommodation such as granny annexes
Replace an existing mobile home
Rural employers, farmers and smallholders
New accommodation for employees or family members.
Comfortable
Cost-effective
Quickly installed
Choose your style
Our transportable homes are available in both our Timeless Traditional and Stylish Contemporary ranges.
Timeless Traditional
Interlocking logs in the classic Norwegian style
High-precision, computer-controlled cutting and shaping
Immensely strong, draught-free homes.
Can be delivered to difficult sites
Prices from only £48,000
Stylish Contemporary
Huge glazed areas and features such as bi-fold doors
Intriguing design options
Patented joint system
Prices from only £49,000
Again, we can deliver homes as small components to tricky sites. But if your site is suitable, we can deliver your home as substantial modules. We pre-assemble these in our own factory under ideal conditions, saving time on site.
Huge range
You can choose from a huge range of standard layouts and sizes across the ranges, from a compact one-bed cabin to family homes with four generous bedrooms, family bathroom and en suite. You can also use our bespoke design service to create a truly individual home that's still within the mobile home specification.
Log Cabin installed pricing option
Our price covers the whole insulated weatherproof structure of the log cabin that we erect on your base. That includes roof, internal walls, windows doors, floors and decoration, but not fitting out items such as mains services, kitchen fittings, bathroom, electrics, plumbing and floor coverings. We provide complete working drawings for you to give to the contractor(s) you choose to fit out your cabin.
Not sure which option might be best for you? Contact us and discuss your situation with one of our experts.
Most frequently asked questions
Can I install solar panels on the roof?
Yes, provided all fittings are appropriately sealed.
Can I replace an existing mobile home with a Norwegian Log transportable home?
Generally yes, provided you have the necessary local authority permissions. We normally recommend seeking a Certificate of Lawful Use. Our transportable log homes conform to The Caravan Act, and we build them to the relevant British Standards. We strongly advise that you check with your local Planning Office before proceeding.
Can you provide a price for my existing architect's plans?
We can provide a budget cost, or a fixed-price quotation if you have full plans approval.
Testimonials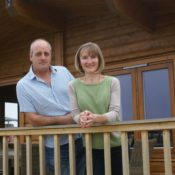 'The Norwegian Log team were really helpful. I would highly recommend them.'

Stephen and Anneli Cowper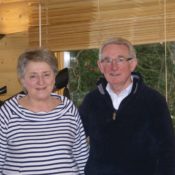 'Norwegian Log helped us develop the living space we wanted quickly and economically.'
Sally and Brian Knight