Bespoke Log Cabins and Buildings
High quality custom log cabins
Low running costs
Choice of bespoke log cabin styles
Complete design service
Welcome to our Custom Log Cabins
Our standard ranges are an excellent starting point for a custom log cabin, because our design team can usually modify them to meet special requirements. But if you'd prefer a building that's totally individual, our complete bespoke service (see below) is at your disposal.
Most of our bespoke log cabins are fully compliant with the Caravan Act, which is a big advantage. Depending on your site and application, compliance with the Act can remove any requirement for Planning Permission and Building Regulations approval. For further advice specific to your situation, please contact us.
Low Running Costs
All our bespoke log cabins are immensely strong and durable, and come with an extendable five-year warranty. In fact, they have an indefinite lifespan with only minimal routine maintenance. This keeps costs low and preserves the value of your asset, unlike a steadily depreciating caravan.
What's more, our solid log offers a very high level of natural thermal insulation. Your bespoke log cabin will be inherently warm in winter and cool in summer with minimal energy costs.
Choice of Bespoke Log Cabin Styles
Our bespoke log cabins are available in both Timeless Traditional and Stylish Contemporary formats. Whichever you choose, we're sure you'll enjoy and value the Norwegian Log Effect™ for many years.
Timeless Traditional
Our Timeless Traditional custom log cabins feature interlocking logs in the classic Norwegian style. We deliver the log components to your site in bulk, but we can move them to their final positions individually. That means we can usually install our bespoke log cabins even on sites with difficult access.
Stylish Contemporary
We make our Stylish Contemporary custom log cabins using our own patented joint system, which offers exciting new design opportunities.
We deliver these bespoke cabins as substantial modules to suitable sites. We pre-assemble the modules in our own factory under ideal conditions, saving even more time on site. We can also deliver them as small components to sites with difficult access.
Complete Design Service
Whether you have a drawing of the kind of building you'd like, or simply an idea, contact us to discuss your plans with our bespoke specialists. We'll use our decades of experience to guide you to a workable design that delivers what you want in your new building. To help you make the most of your budget, an indicative price for our bespoke log cabins and buildings is £950-1100/m2.
Find out more
To see one of our bespoke log cabins for yourself, or to start discussing your plans, please contact us to make an appointment with one of our experts.
Most frequently asked questions
Can you construct to my own design?
Provided the main component of the building is log, we can build a structure of almost any size within reason, and for a wide range of applications.
Do I need to employ an architect?
In most cases no, which is one of the great advantages of our service. We can build to your architect's design if you have one, or we can provide an optional design service for a fee.
If I need Planning Permission, can you obtain it for me?
Upon acceptance of our quotation we'll inspect your site and tell you whether we think you'll need Planning Permission. If so, we can handle the application on your behalf for a fixed fee. In any case, we'll always obtain written confirmation from the local authority before proceeding.
Testimonials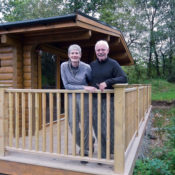 'The care taken at every stage of the build was impressive.'
David Trusty
Book a visit to our showroom to experience the Norwegian Log Effect.
Book Appointment