Contemporary
Installed within weeks
Economical to run
The new option for contemporary log cabins
Competitive pricing
Transportable Log Homes from £48,000
Garden Rooms from £14,995
The new option for contemporary log cabins
Our Stylish Contemporary Log Cabins take the traditional virtues of solid log construction – strength, durability, pleasing ambience – and give it a fresh new look. With our contemporary log buildings, you can enjoy the Norwegian Log Effect™ to the full year after year in your own garden.
What makes it possible is our own patented jointing system, which opens up entirely new design opportunities. The two aspects you'll notice first are that we can now offer greatly increased glazing – an entire wall if you wish – and the ability to have walls that aren't at right angles to each other.
For example, we can design a contemporary Garden Room to fit across a corner of your garden, with full glazing facing your garden and none at all adjacent to the boundary. Or a contemporary building to help you make the most of another nook in your garden.
For the final personal touch, we complement our Stylish Contemporary designs with a range of new colours, too.
In most cases, you won't need Planning Permission for our contemporary log buildings. Read our informative Guide to Planning Permission, or contact our experts on 01189 669 236 for further information.
Wide range quickly installed
Our wide range of standard contemporary log cabins spans from 9 to 30 m2 (approx. 97 to 323 sq. ft.) We also have standard models ready to slot conveniently into a corner of your garden, based on our 3.5 m and 4 m square formats.
Our modular construction makes it easy to add extra facilities such as toilets and shower rooms to enhance your enjoyment of your contemporary log cabin. Modularity also enables us to design special contemporary log cabins to meet your particular needs.
With our log technology, you can be enjoying your contemporary log cabin far faster than with traditional construction methods. The way we work dramatically cuts the amount of time we spend on site, and we carry out all our work as cleanly as possible, with minimal disturbance. We really do appreciate that we're working on your land, which is precious to you in so many ways.
We usually deliver our contemporary log cabins as relatively small components. If necessary, we can carry every component through a standard domestic doorway, giving us access to gardens and land where we can't use a crane.
On some sites, we may be able to deliver our contemporary buildings as modules, which we pre-assemble in our own UK factory under ideal conditions. This reduces the time needed on site to just a few days.
Low running costs
Our contemporary log cabins enable you to enjoy your garden in comfort all year round. The log's high level of natural insulation delivers a contemporary building that's warm in winter and cool in summer, with minimal energy costs. Should you need heating, we offer eco-friendly solutions such as air-source heat pumps that combine comfort with economy.
You save on maintenance, too. Our modern log cabins require only minimal routine maintenance to extend their lifespan indefinitely – and preserve the value of your investment. They retain their good looks, too, without the need for costly regular redecoration.
Competitive pricing
Our contemporary buildings are competitively priced compared with traditional construction methods. Prices start at just £14,995 for a 3 x 3 m (a little under 10 ft square) contemporary log cabin for your garden or land.
Most frequently asked questions
Will my Norwegian Log building arrive in one piece or in panels?
We assemble most of our buildings on site log by log, which enables us to access the most awkward sites. We will deliver your building to your site in wrapped packs, which we unload in bulk by forklift or carry as individual logs for ease of access. A walkway down the side of your house or a straight run through your house should be sufficient. We'll inspect your site to confirm that access is suitable. If there are no restrictions on access, we can pre-assemble some buildings in the factory and deliver them to your site in convenient modules.
What are your typical build/lead times?
Once you are in a position to place an order our standard delivery times are 6-8 weeks from firm order (although this can vary at time of order). The time on site can depend on whether we deliver a modular annexe that is pre-assembled in our factory involving several days on site. Alternatively, assembly on site of the whole unit including internal fit will involve several weeks depending on the size of the unit.

Can you construct to my own design?
Provided the main component of the building is log, we can build a structure of almost any size within reason, and for a wide range of applications.
Do I need Planning Permission for a building in my garden?
In most cases, no, provided it satisfies all the criteria for Permitted Development. Outbuildings are considered to be permitted development, subject to the following conditions:
The outbuilding is not to the side of a house on designated land (includes national parks and the Broads, Areas of Outstanding Natural Beauty, conservation areas and World Heritage Sites). Note that outbuildings are permitted development within the grounds of a listed building.
The outbuilding is not forward of the principle elevation of the original elevation of the house.
The outbuilding and other additions must not exceed 50% of the total area of land around the original house. Sheds and all other outbuildings and extensions to the original house must be included when calculating this 50% limit.
The outbuilding must not itself be separate, self-contained living accommodation.
The outbuilding is single storey with a maximum eaves height of 2.5 m and a maximum overall height of 4 m with a dual pitch roof, or 3 m in any other case.
If the building is within 2 m of the property boundary, the whole building must not exceed 2.5 m in height.
Any veranda is no higher than 300 mm.
We strongly advise that you check with your local Planning Office before proceeding. If you want to avoid all planning issues, take a look at our Contemporary buildings. They feature a different, distinctively contemporary, look, and fall within the 2.5 m height limit for planning close to boundaries.
Do I need to have Building Regulation approval?
No, not with a Norwegian Log granny annexe which is classed as a mobile home and is exempt from Building Regulations.
Can I install solar panels on the roof?
Yes, provided all fittings are appropriately sealed.
Testimonials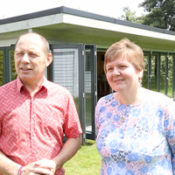 "Modern, open – fits our type of house and all our criteria. It's so light and airy… makes me even more creative. So impressed with the building team, construction had very low impact on our lifestyle. Superb workmanship."
Paul & Françoise Read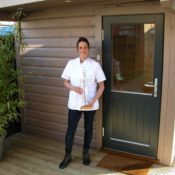 'We saw other cabins, but Norwegian Log's Contemporary Buildings really stood out. It will really add value to our property.'
Cristina Lopez-Pascual
Find out more
To see one of our contemporary log cabins for yourself, or to start discussing your plans, please contact us to make an appointment with one of our experts.
Book Apointment