Traditional
Visibly higher quality
Authentic Scandinavian styling
Advanced interlocking system
Indefinite lifespan
Transportable Log Homes from £48,000
Garden Rooms from £17,995
Our Timeless Traditional range gives you the classic Scandinavian log cabin experience. Light, airy, spacious. Cosy in winter, cool in summer. A cabin where you'll feel completely at home, enjoying the Norwegian Log Effect™ to the full for years to come.
Visibly higher quality
No cladding, no boarding - just solid log throughout for strength, durability and natural good looks that eliminate the need for intensive maintenance.
Scandinavian styling
Our exclusive UK rights to log cabins from a leading Norwegian factory give us access to genuine Scandinavian log cabin style, with its unmistakeable look and feel.
Wide range and high capacity
Our capacity (1 to 100+ units) and range more than satisfy the demands of private clients as well as the premium leisure market. Traditional log homes, from compact 1-bed cabins to luxurious 4-bed, 2-bath family homes, garden offices, home leisure centres, swimming and hydrotherapy pools, retail outlets – our Scandinavian log cabins fit the bill perfectly.
Delivery and installation within weeks
We manufacture our traditional log cabins to your specific requirements, yet the process is so quick and efficient that it's usually just weeks from ordering to completion. We can also often work on sites where difficult access defeats other construction methods. Every component can be carried through a standard domestic doorway. That means, for example, that we can usually install a granny annex in your garden even if crane access is impossible.
Advanced interlocking system
Our interlocking system joins precision-cut logs to give the strong, traditional and so appealing log cabin structure. Our system also incorporates an intricate overlap in the joints between the logs to reinforce and draught-proof, too.
Low running costs
Our Scandinavian log cabins are as cosy as you'd expect, thanks to the log's high level of natural insulation. And pleasantly cool in summer, for the same reason. This natural insulation minimises energy requirements and keeps running costs low.
Indefinite lifespan
You can expect our log cabins to have an indefinite lifespan with only minimal routine maintenance. After all, Norway has log buildings over a thousand years old! For your reassurance, we construct all our traditional log cabins from 75 mm (3") or 125 mm (5") solid log. They have a full five-year warranty (provided you comply with our maintenance recommendations), and you can extend your warranty to 25 years by joining our optional warranty inspection plan.
Compliant with the Caravan Act
Virtually all our traditional log homes comply fully with the Caravan Act, which greatly simplifies Planning Permission and Building Regulations requirements in certain cases (more details here).
Most frequently asked questions
Do I need to employ an architect?
In most cases no, which is one of the great advantages of our service. We can build to your architect's design if you have one, or we can provide an optional design service for a fee.
Will I need to re-treat my Norwegian Log building?
All wood products need maintenance to keep their lustre and to protect them from ultraviolet light, wind and rain. When you join our optional service plan, we will advise you when your building requires a new coat of stain. With proper maintenance, your building will have an indefinite life span. There are log houses in Norway that are centuries old.
Can I install a wood-burning stove?
Yes. Many of our residential homes have them. Please let us know where you intend fitting it so we can prepare a suitable opening in the roof for the flue.
Testimonials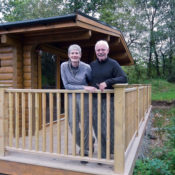 'The care taken at every stage of the build was impressive.'
David Trusty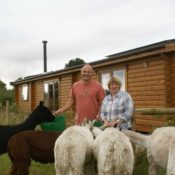 'We were delighted with the overall Norwegian Log experience.'
Richard and Leigh Woods
Find out more
To see one of our traditional log cabins for yourself, or to start discussing your plans, please contact us to make an appointment with one of our experts.
Book Appointment